A home office is not just a luxury, for many Americans working from home is a necessity. Whether you are self-employed or your workplace office is closed indefinitely or if you split your work-life between the office and home, working from home is not a trend, it is a lifestyle that many of us will practice for years to come.
Choosing quality pieces and thoughtful design for your home office is an investment that pays off in long-term productivity and usability.

– Interior Designer Kevin Gray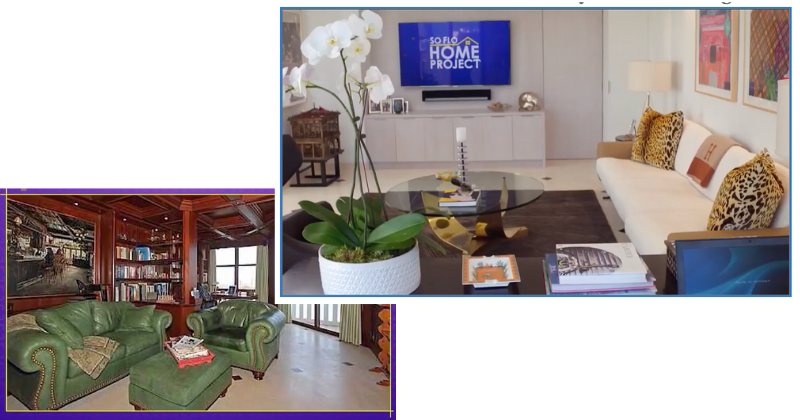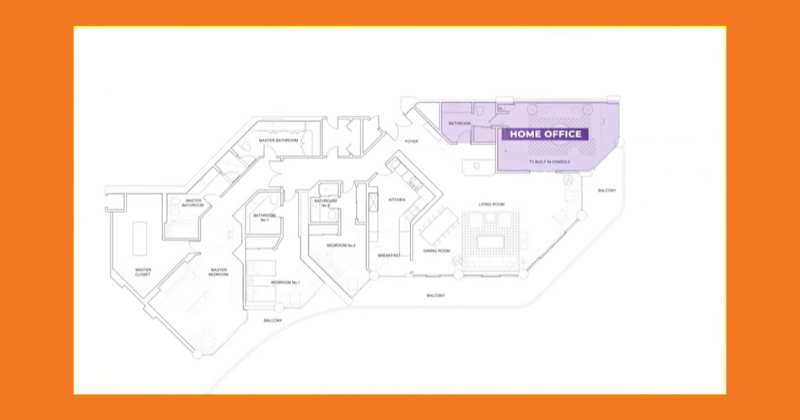 In this gut renovation in a mid-1980s tower on Williams Island on Aventura Florida, Kevin Gray Design (KGD) took out the old dark library and converted it to a home office that doubles as a guest room with a full bath. The original dark-paneled room is now light and bright with white walls and colorful accents. The dramatic home office transformation complements the newly redesigned apartment and is a mixture of modern functional furniture with antique and vintage pieces that along with the artwork provide color and personality.
Watch:
Dramatic Home Office Transformation by Interior Designer Kevin Gray
Chocolate Brown Ties It All Together
This home office makeover was recently featured on the SoFlo Home Project with Alena Capra. Kevin Gray design tied the home office design together with elements of chocolate brown. The previous library was a dark brown wood – a heavy, dark look that is impossible to paint white unless the wood is perfectly constructed – which this wasn't: there were large joints and caulking.
For the new home office that doubles as a guest room, Kevin Gray integrated elements of the chocolate browns the owner loves:
A chocolate brown Holly Hunt dining room table functions as a desk
The original condo flooring with insets of chocolate was preserved; KGD repolished it to restore the colors and shine and tie the spaces together
A comfortable chocolate brown chair leans back and swivels to enjoy the water views
A chocolate brown rug ties the room together
Kevin's 7 Home Office Design Take-Aways
1. White Paint 
Gallons and gallons of white paint open up a room and brings the light in. Contrasted with the previous heavy dark wood walls and ceilings, the new home office feels light and airy.
2. Double-Duty
Most home offices are used less than 10 hours a day, and most guestrooms are used for occasional weekend guests. By designing the home office that converts to a guest room with a full private bath, Kevin incorporated important comfort for both functions.
3. Multi-Purpose Furnishings 
A dining room table that functions as a desk. A TV console that serves as office storage. A desk that doubles as comfy spot to watch TV. If you're designing a double-duty office, choose furnishings that do double-duty also.
4. Soffits
Optimal home office functionality required additional wiring for outlets and lighting. Instead of extensive construction on concrete slab walls and ceilings, KGD added inexpensive soffits to hide the wiring at a more affordable cost.
5. Recessed Doors 
Kevin added concealed paneled pocket doors between the home office and the main living area so the doors could be unobtrusively left open and hidden away and the office becomes an extension of the living areas with no wasted space from traditional doors.
6. Bring In Character
Colorful artwork and vintage metallics bring personality and character to a functional room.
7. Reuse and Repurpose 
Everything cannot be saved in a redesign – but some features can. The original condo flooring was restored and reused instead of torn out and discarded.
See More Of Kevin's Williams Island Gut Renovation Here: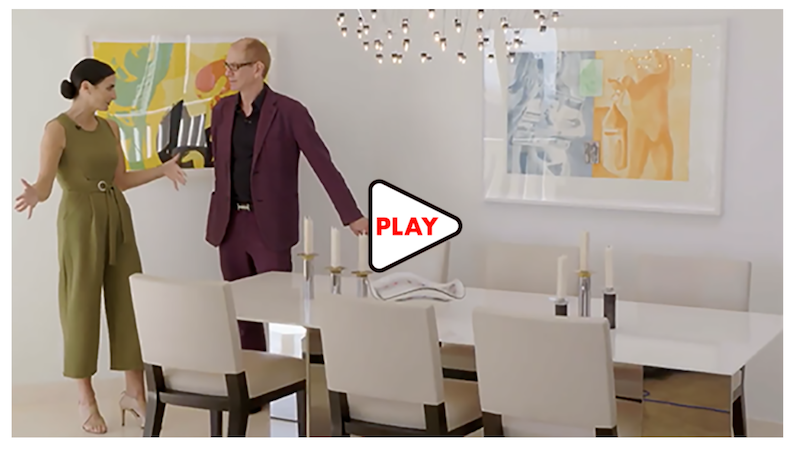 Have Your Home Office Needs Changed?
Contact The KGD Design Team
305-751-4263
Kevin and the KGD team will work with you remotely to meet your interior design needs. 
The team at Kevin Gray Design's first priority is the health and safety of our team, our families, our clients and our communities. We take our commitment to practice social distancing and slow down the spread of the coronavirus very seriously and are working from home and doing our best to continue to provide service to our valued clients. Contact us today!