Kevin Gray Design was thrilled to be featured on SoFlo Home Project for the third time. The most recent episode showcased our Aventura, Florida, waterfront gut and rebuild on Williams Island. Watch Kevin on SoFlo Home Project with new host design expert Alena Capra.
WATCH: Kevin Gray on SoFlo Home Project with Design Expert Alena Capra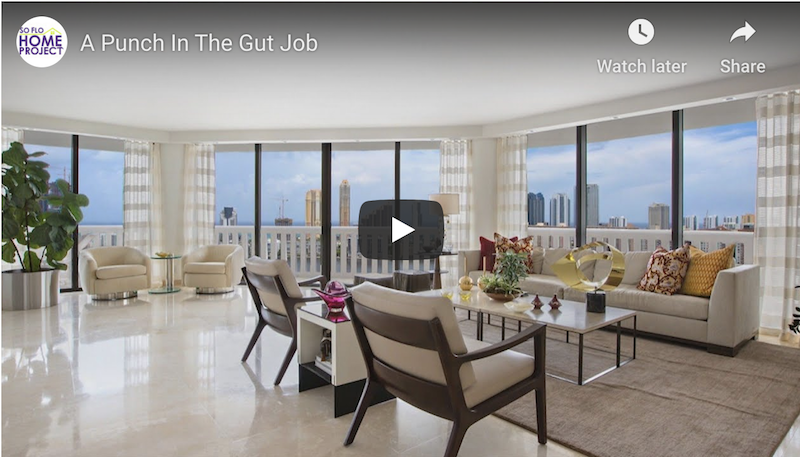 8 Tips On A Gut Remodel from Interior Designer Kevin Gray
1. Rework and Reuse 
In a renovation, people often waste things that can be reused. Kevin was able to revamp and resurface the kitchen cabinets – and help save our environment and saves money. In the living area, Kevin gave new life to the bar by resurfacing and installing a new countertop.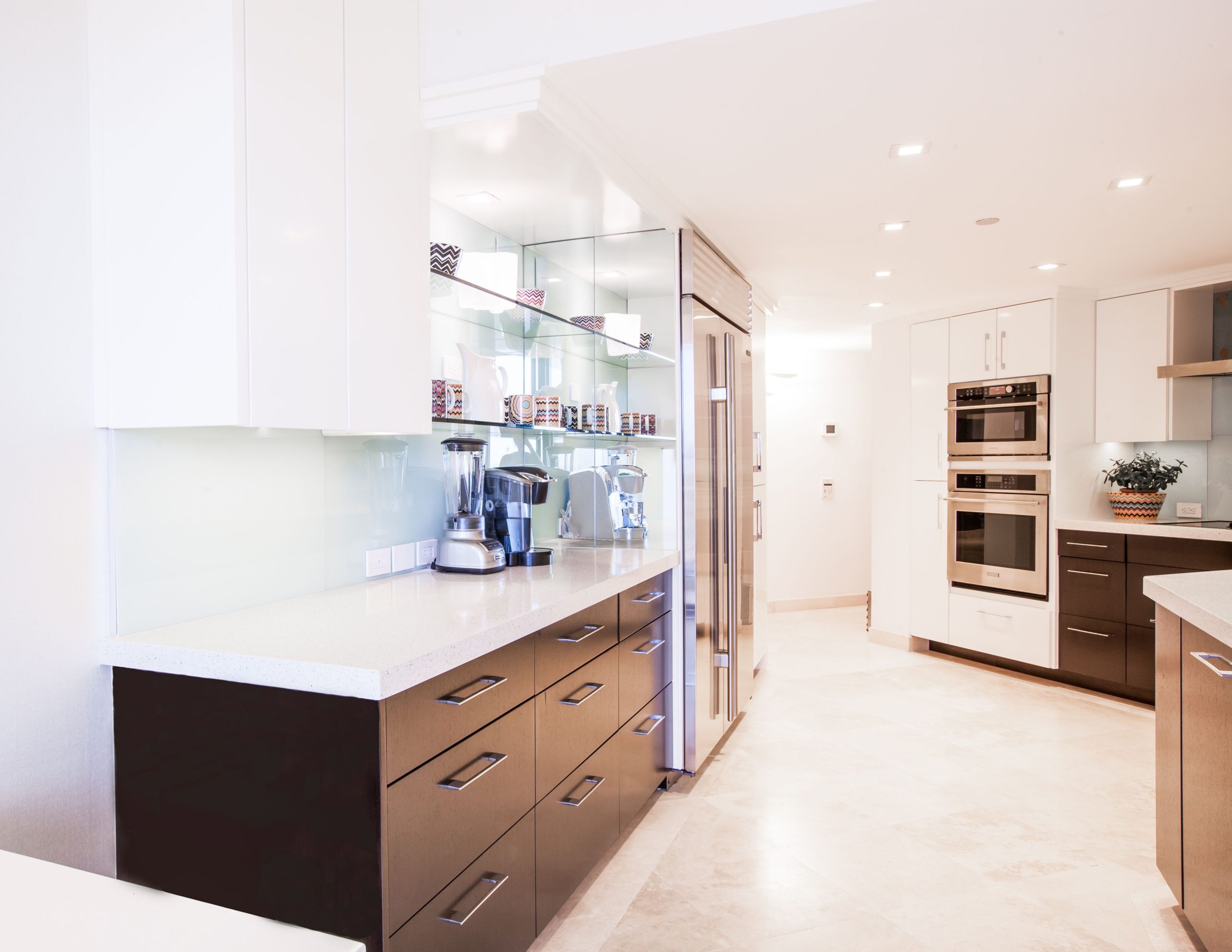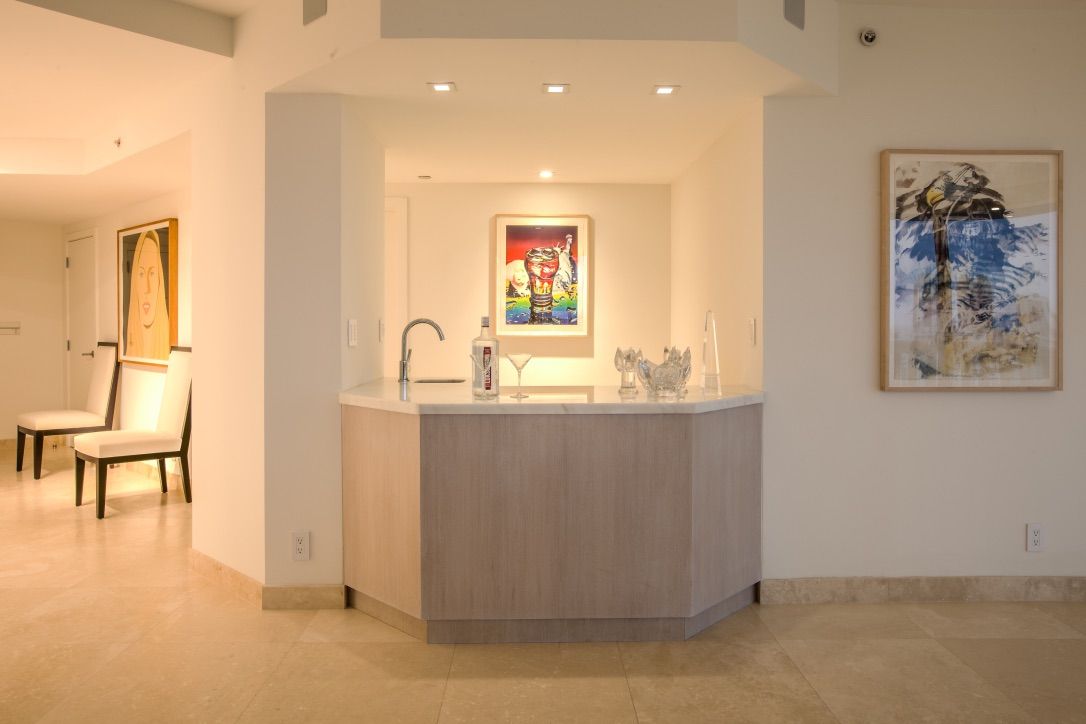 2. Let the Light In 
Widen a narrow hallway by moving the walls – Kevin reconfigured a closet and powder room and moved a wall to make the entry 2 feet wider and more welcoming.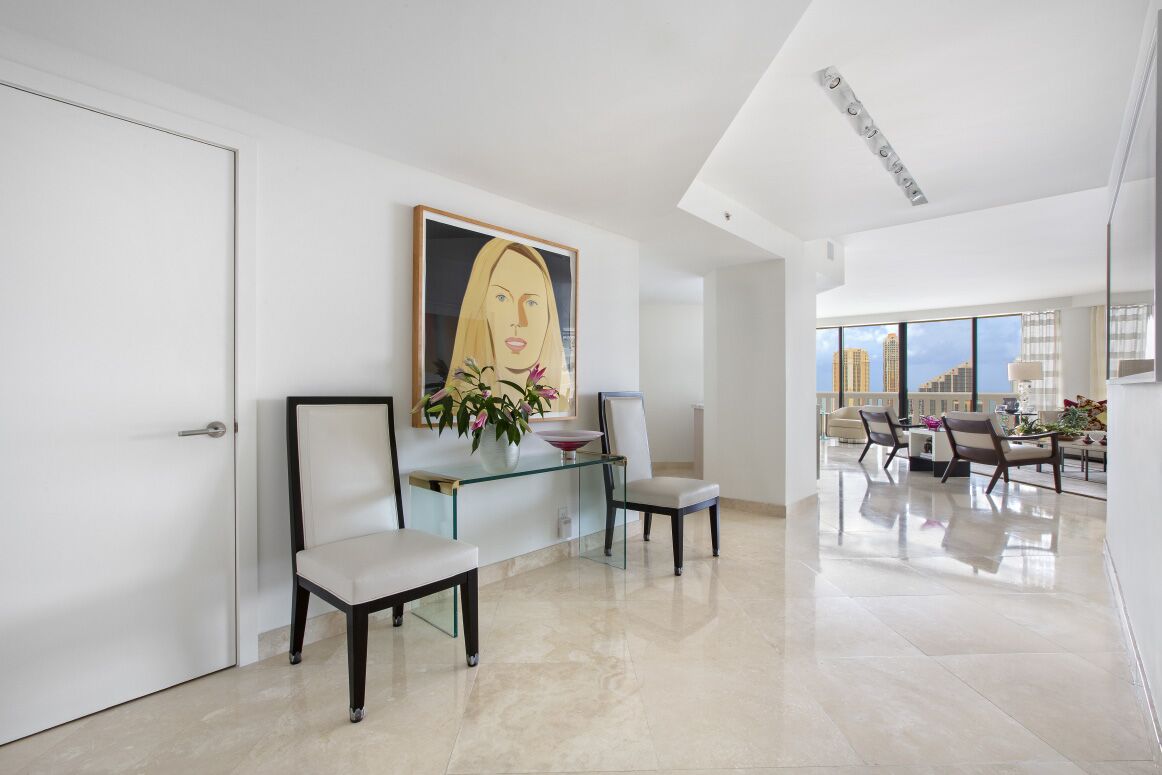 3. Don't Cut Corners on Hurricane Windows 
Installing good hurricane windows lets you enjoy Florida indoor/outdoor living while protecting your home from high winds.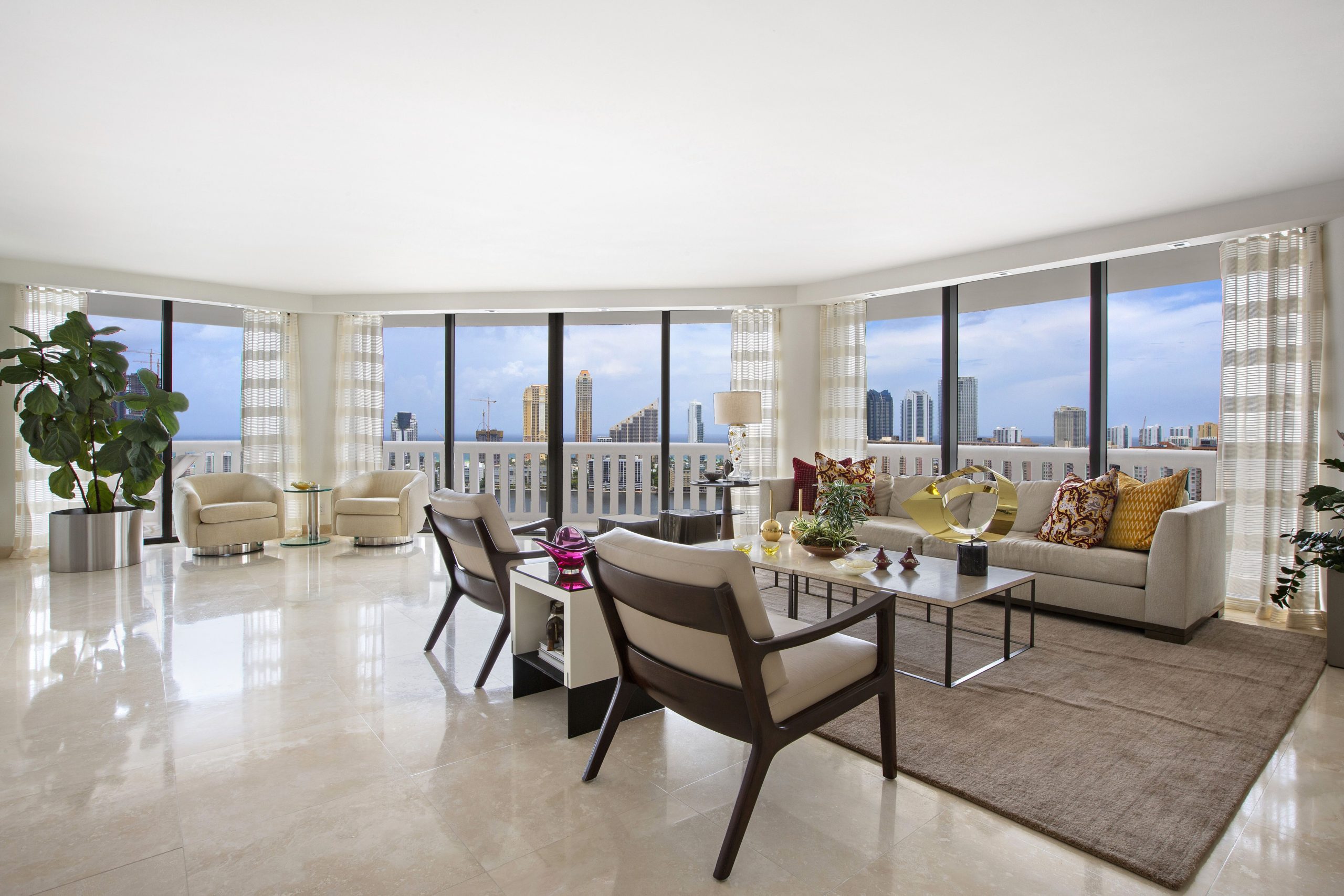 4. Go Modular 
Modular furniture isn't just beautiful, for condo living its practical: it goes up the elevator!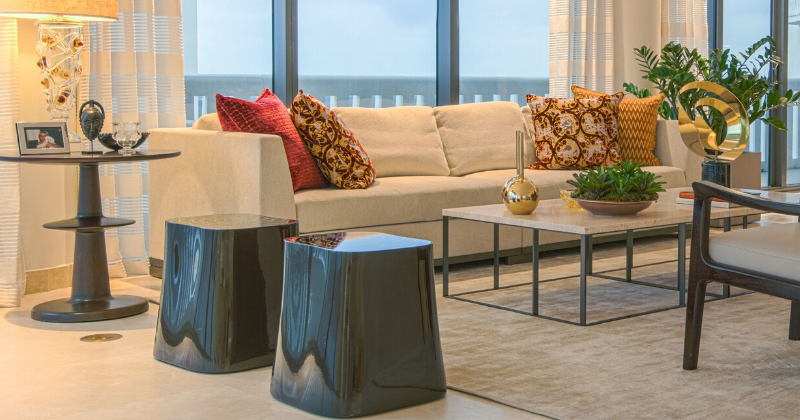 5.  Mix Antiques and Modern 
A modern apartment gets color, personality and character by incorporating antique and vintage pieces such as lighting, accessories and furniture pieces.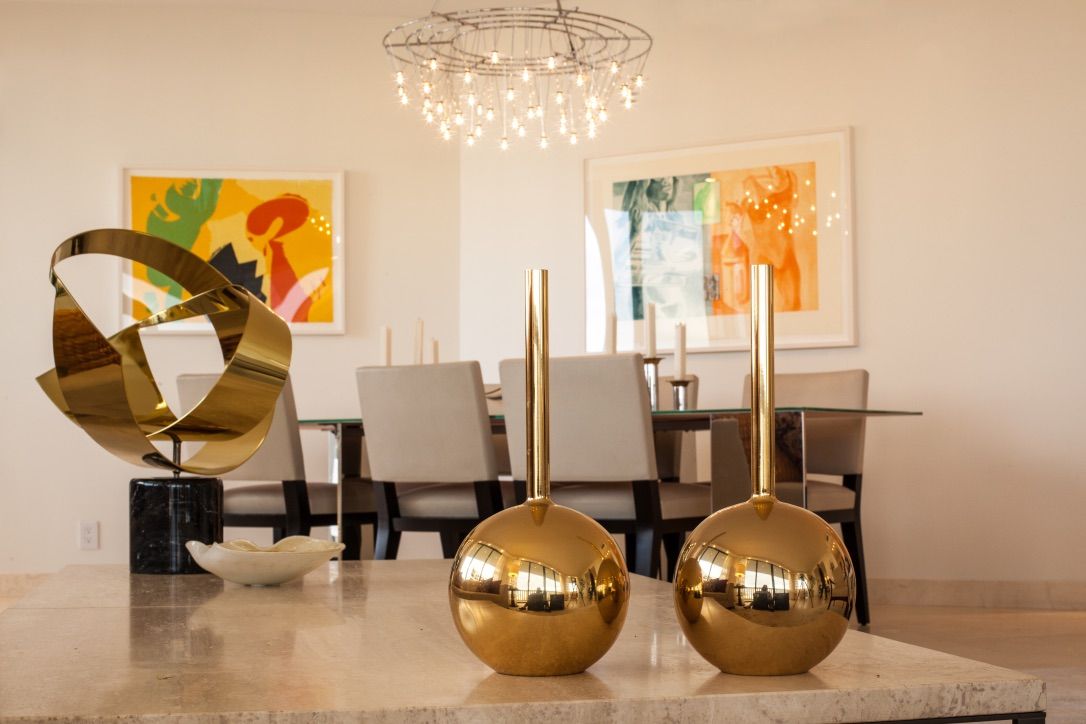 6. Dark Wood Doesn't Paint Well 
Dark wood can be painted white if it's proper wood. But dark wood with joints, caulking and other problems can't be properly painted white.
Kevin removed all the dark wood in this room and created a home office for his clients, which doubles as a conference room. Kevin used a dining table as the desk and the TV can be used for presentations. The storage area below the TV is for office storage including a fax machine, electronics, and paper storage.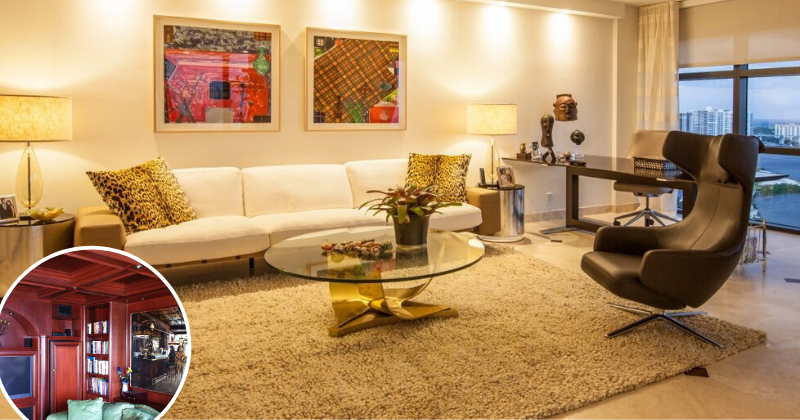 7. Soffits Provide a Cover-Up
Many condos can't have recessed ceilings, so soffits can be installed to add ambient lights and hide electrical wires.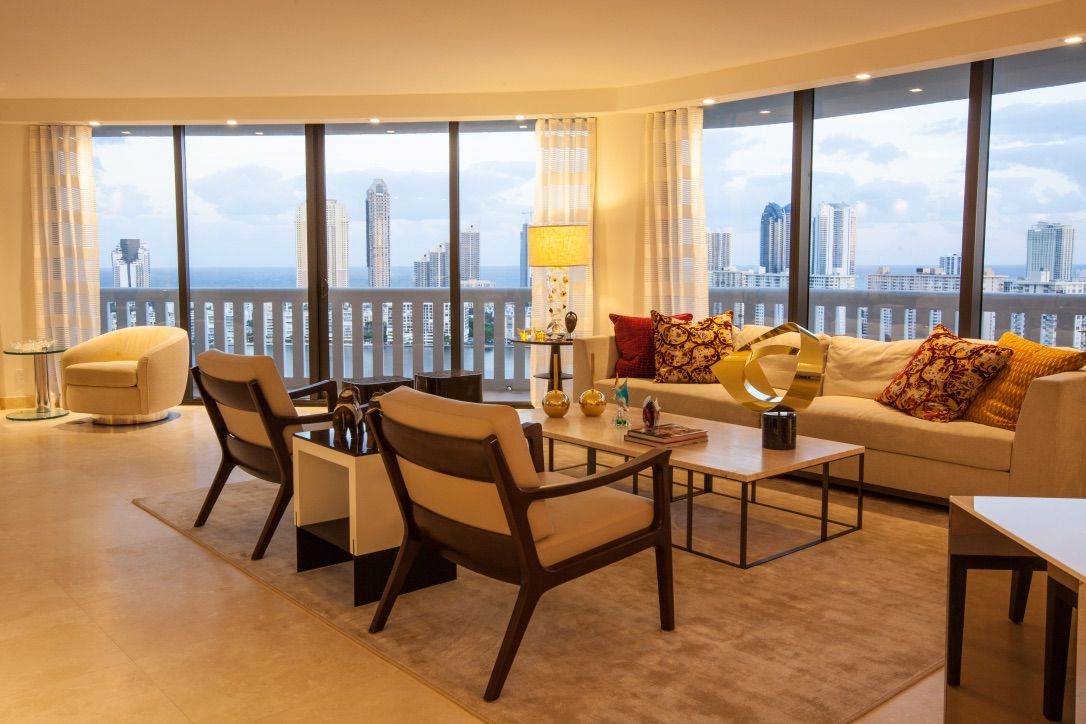 8. Shattered Glass Lets the Light In
Tempered glass that is shattered lets the light in while protecting bathroom privacy.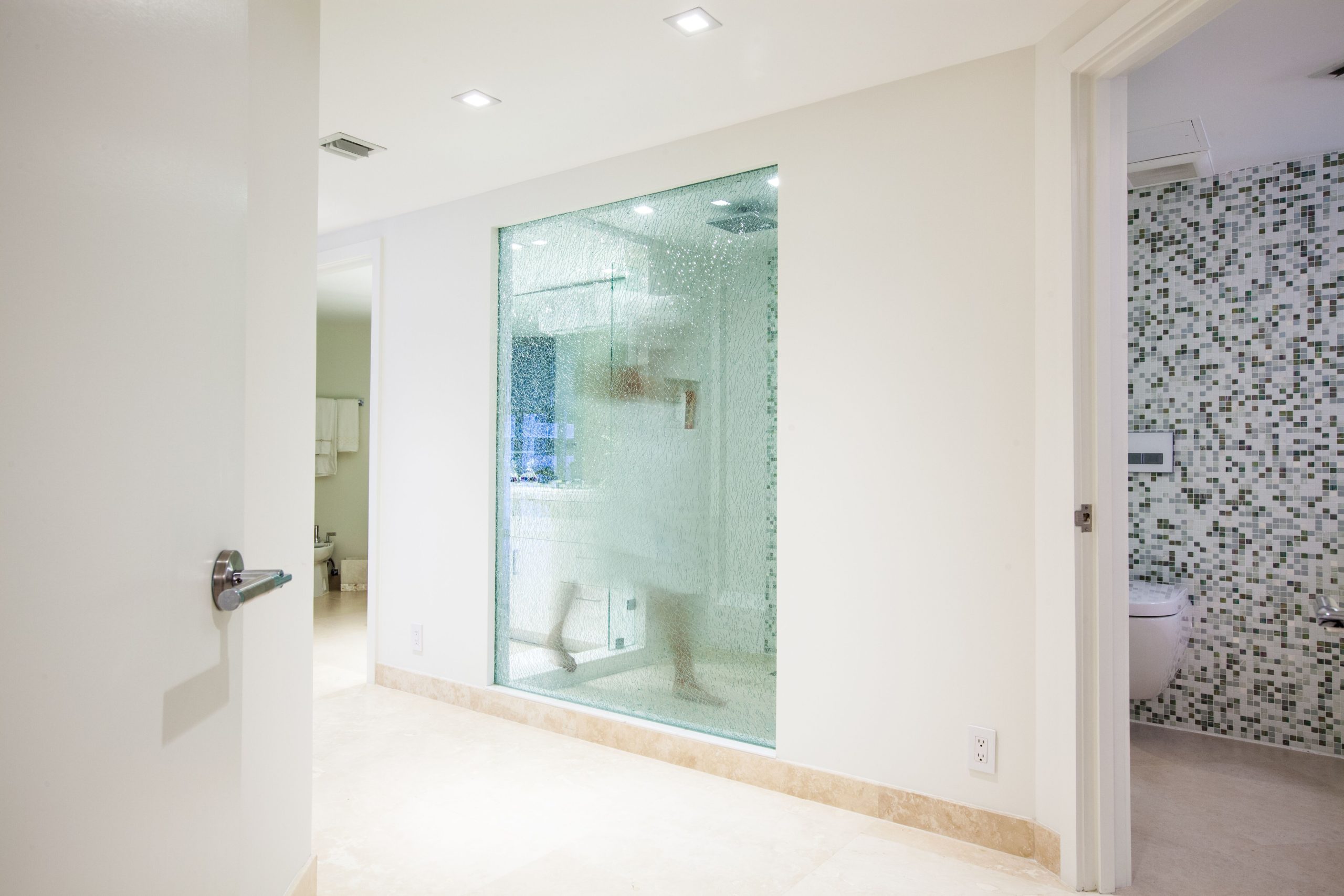 See full Williams Island portfolio here

This was Kevin Gray Design's 3rd appearance on SoFlo Home. Watch previous segments here:
Do You Need A Home Office? 


Contact Kevin Gray Design 305-751-4263
Kevin and the KGD team can work with you remotely to meet your interior design needs. 
The team at Kevin Gray Design's first priority is the health and safety of our team, our families, our clients and our communities. We take our commitment to practice social distancing and slow down the spread of the coronavirus very seriously and are working from home and doing our best to continue to provide service to our valued clients. Contact us today!