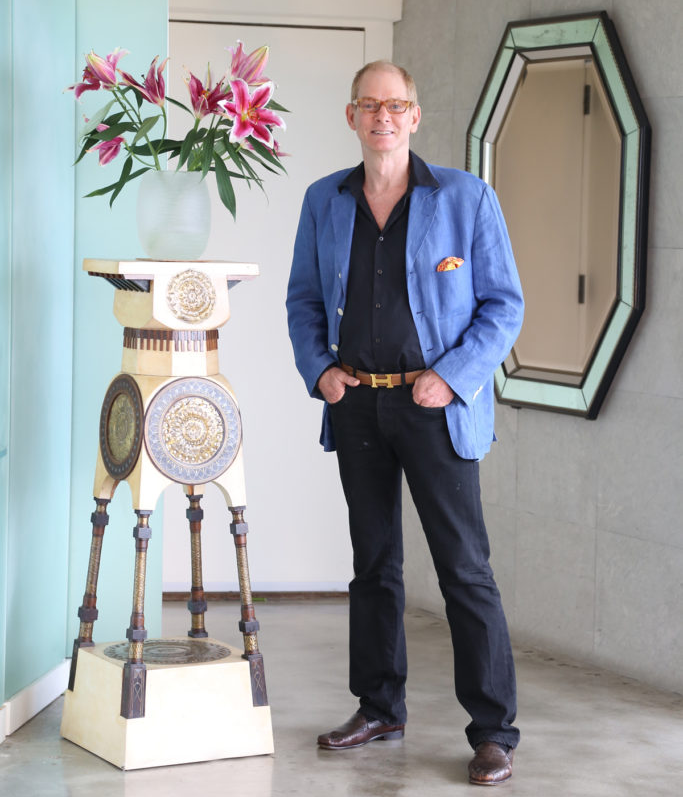 About | KEVIN GRAY Design
FOUNDER AND SENIOR DESIGNER
Kevin Gray is an Interior Designer known for transforming interiors into timeless and unique environments for the most discerning clients in Miami, New York, Washington D.C., and Europe. His interiors showcase signature designs that are understated yet sophisticated, straightforward, elegant, and functional. Clean lines and simple but well-crafted furnishings, with an attention to finishes, textures and the highest quality materials, are Kevin Gray Design staples. Kevin is known for his sensibility of style by mixing the unexpected with unique vintage pieces and fabrics. Clients say Kevin's key to his success is his trusted history of collaborations with the best architects, craftsmen, and builders.
Kevin's clients are a who's who of builders, developers, and business leaders, and he has worked on the East Coast of America, from Key West to Jamestown, RI. Kevin's list of high-profile clients includes Penthouses for Wolfgang Joop in NYC and Monte-Carlo, as well as the JOOP! Flagship store on Ocean Drive, Miami Beach; Lancaster Group cosmetic departments at many of their major department stores and duty-free storefronts at airports throughout the USA and many international airports worldwide; Jill Sander; Joop Davidoff; and Dunhill.
Kevin had 4 of his lamps selected for "Changing Light," an exhibit of 100 lamps at Miami Art Museum, in association with the Wolfsonian Museum, and also exhibited one of his lamps, "Uranis" at the Gallery Neotou, Paris, to name a few.
Kevin Gray's work has been featured on HGTV USA and Canada, AMC Iberia 2015 Holiday Special, Metropolitan Home, House & Garden, Ocean Drive, German Elle Decoration, German Vogue, Vogue Apartment Living Australia, Vogue Italia, Florida Magazine, Objekt Magazine, The Miami Herald, and Taschen Books' "Seaside Interiors" and "New York Interiors" (showcasing the private residences of Wolfgang Joop). Kevin has also been featured 6 times on the SoFlo Home Project, showcasing his design work in South Florida.
Kevin is a member of the American Society of Interior Designers / ASID, and serves on the board of The Wolfsonian Museum in Miami Beach, USA, and Genova, Italy.
After graduating from Syracuse University and FIT, Shawn spent 17 years in the fashion world designing for some of the most well-known American brands. In 2006, he made the switch to Interior Design, first in New York, and now in Miami. His professional and collaborative approach infuses a unique perspective and connection to the client. Each project is proficiently managed, resulting in a superior product, that exceed the client's initial design expectations and ultimately realizes their dreams.
Holding a Bachelor's in Architectural Interior Design from Milan's NABA, and Master's in Interior Design from Madrid's IED, Niki has worked under award-winning architects and designers in Milan, New York and Florida. She has won awards for her graphic work and has brought to life ultra-luxury private residences and a flagship boutique on New York City's West 57th St, Billionaire's Row. Niki is fluent in Polish, Italian and Spanish and understands French.
Hooman is a design professional and a member of the American Institute of Architects. He holds a Bachelor of Interior Design from American University in Dubai and Master of Architecture from University of Miami. He was awarded The AIA School Medal for excellence in study of Architecture and was awarded Alpha Rho Chi Medal in conjunction with the National Fraternity to a graduating senior whose leadership, personality and attitude foreshadow exceptional professional worth. Hooman was the Student of the Year 2012 of University Miami, School of Architecture and received AIA Award, and beginning summer 2017, Hooman will be an adjunct professor at University of Miami School of Architecture. Hooman is a violinist and played in many concerts and five classical album recordings and is fluent in Turkish, Farsi, Arabic and English.
Jose "Pepe" Rodriguez had his formal training as a ballet dancer with the famous Alicia Alonzo Cuban Ballet, Havana. After emigrating to France in the 70's he branched out into show business and worked between Paris and Monte-Carlo. Kevin and Pepe met in Paris creating a life long friendship . Pepe keeps a watchful eye over Kevin's business and social calendar and is fluent in French, Italian, Spanish and English.
Elissa is a recent Magna Cum Laude Architecture graduate at the University of Toronto who is in search of what's next. Her visual arts minor results from 13 years of prestigious art programs at magnet schools in Miami. Next, she explored Toronto's vibrant and diverse cultures that inspired her work and a more profound connection with others. Her personability, adaptability, and keen design eye among many other skills make her a valuable asset in exceeding a client's needs at Kevin Gray Design.
Michael is an art director and digital media professional. He holds a Bachelor of Arts, in Graphic Design (Hons) from Central Saint Martins, University of the Arts, London. He has worked as a fashion photographer for well-known women's and men's fashion magazines in the U.K, Paris, and Australia. He has accumulated a diverse set of transferable skills in digital, UX/UI, visual, and content design as well as received a 1st in book design and typography from Central Saint Martins. His personability, adaptability, and keen design eye among many other skills make him a valuable asset at Kevin Gray Design. He is fluent in English, and Japanese and speaks French as a second language.