With all that's going on in the world, we're feeling a bit nostalgic these days at Kevin Gray Design. Interior Designer Kevin Gray met Chuck Panozzo, founder and lead guitarist of Styx, 15 years ago when he purchased a mid-century bungalow and pool compound in Ft. Lauderdale and hired Kevin for a gut rehab and Zen inspired renovation. Chuck wanted his home to reflect his Asian design aesthetic cultivated over years of traveling the world on tour with Styx. Legendary rock bank Styx are inductees into the Ultimate Classic Rock Hall of Fame and famous for their hit albums in the 70s and 80s. From 1977 to 1981, Styx released four consecutive albums that have been certified multi-platinum, for at least 2 million units sold apiece, by the RIAA: The Grand Illusion (1977), Pieces of Eight (1978), Cornerstone (1979) and Paradise Theatre (1981). Chuck Panozzo enlisted Kevin Gray, an interior designer from Miami, with projects in NYC and Washington D.C.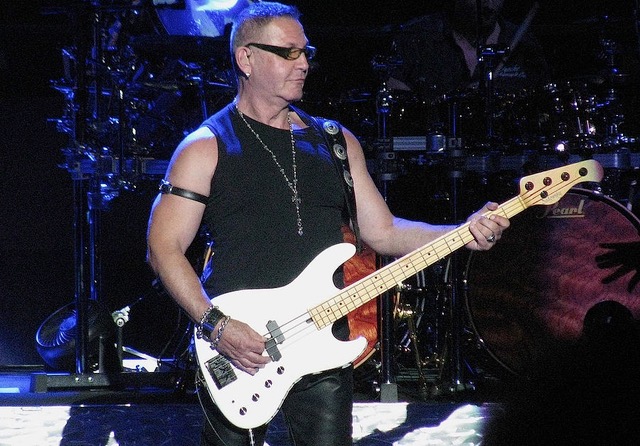 "When I first visited the bungalow and gardens I knew there was potential. The 1960's home had been renovated in the late 90"s, without paying attention to the original lines or it's terrazzo floors."

– Interior Designer Kevin Gray
Before and After
After: Zen Inspired Renovation of a Mid-Century Bungalow by Kevin Gray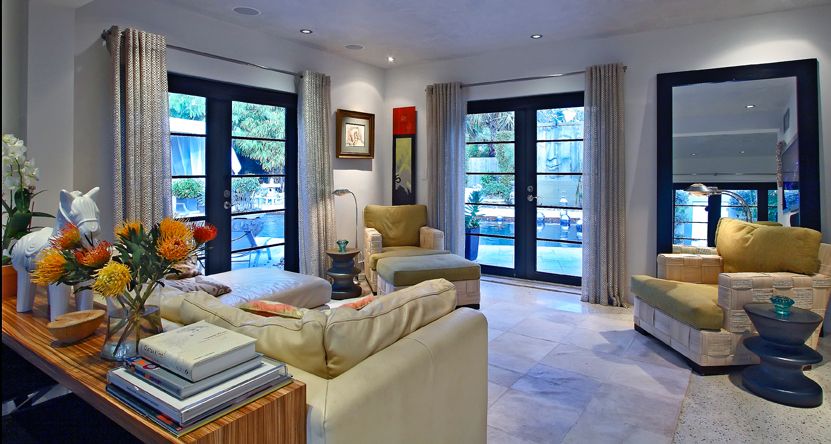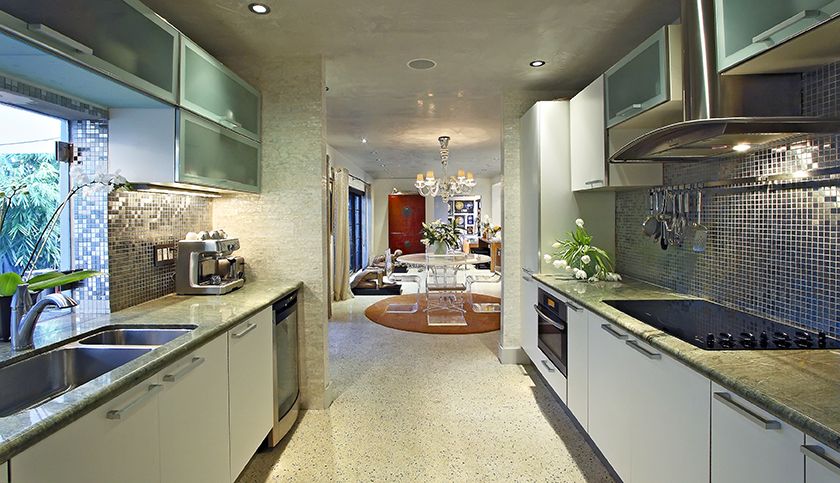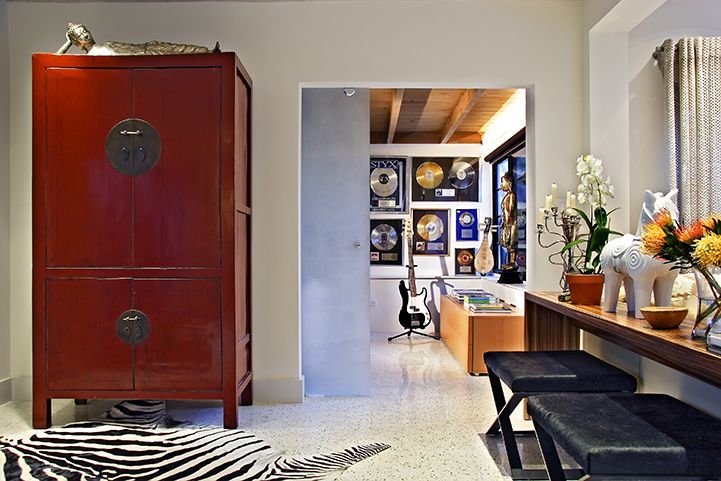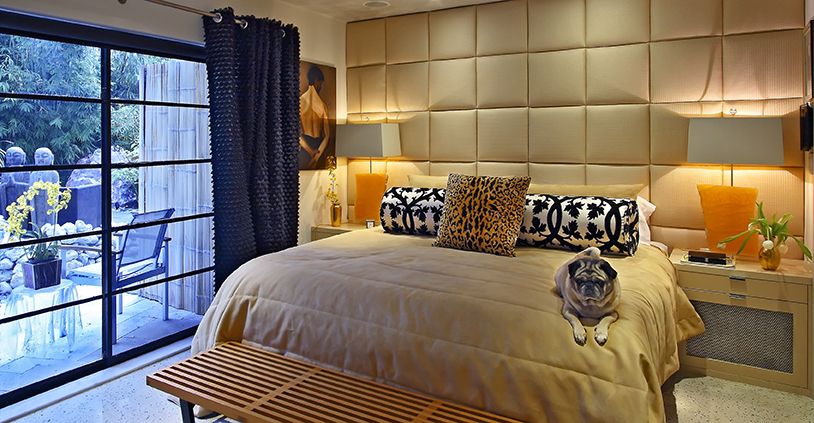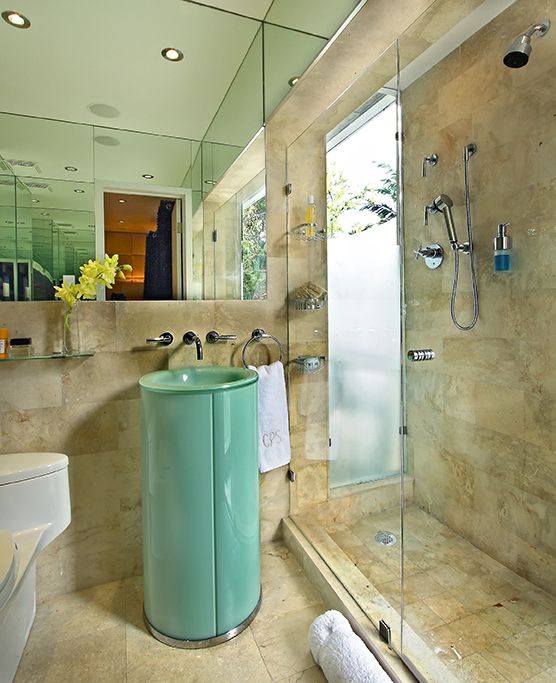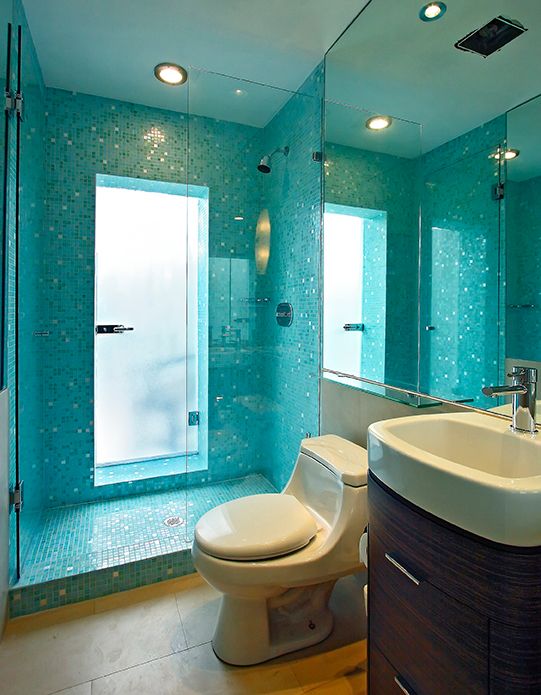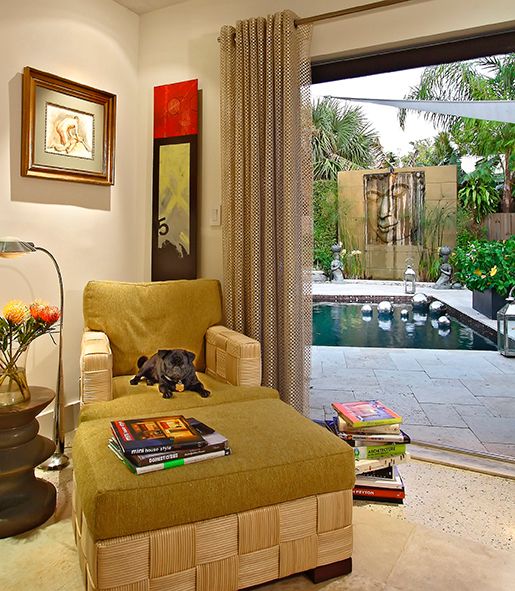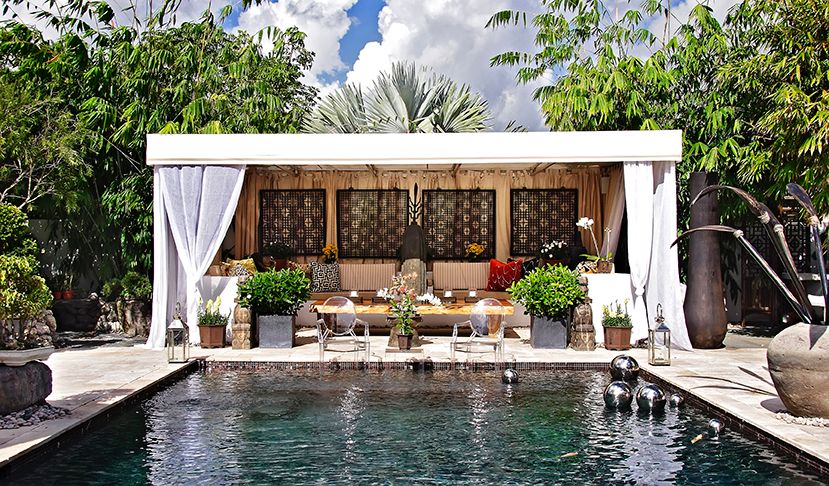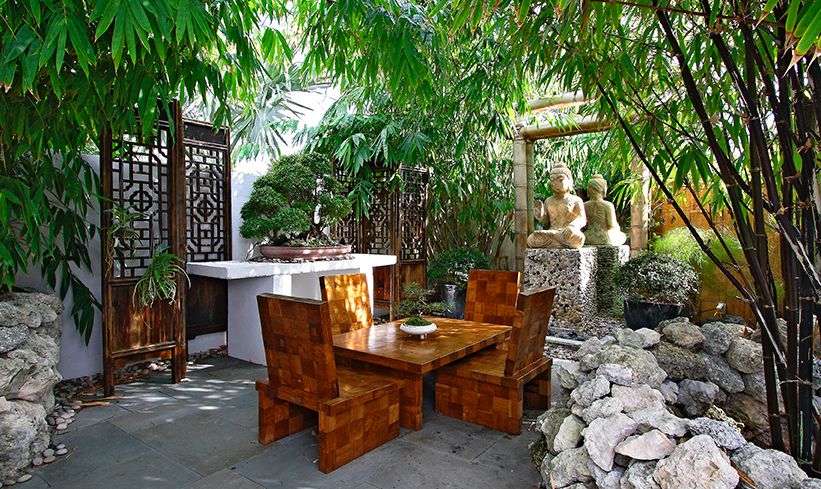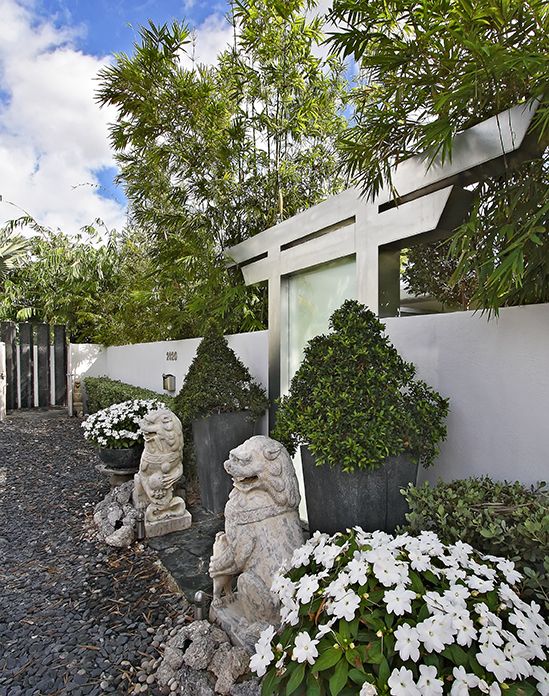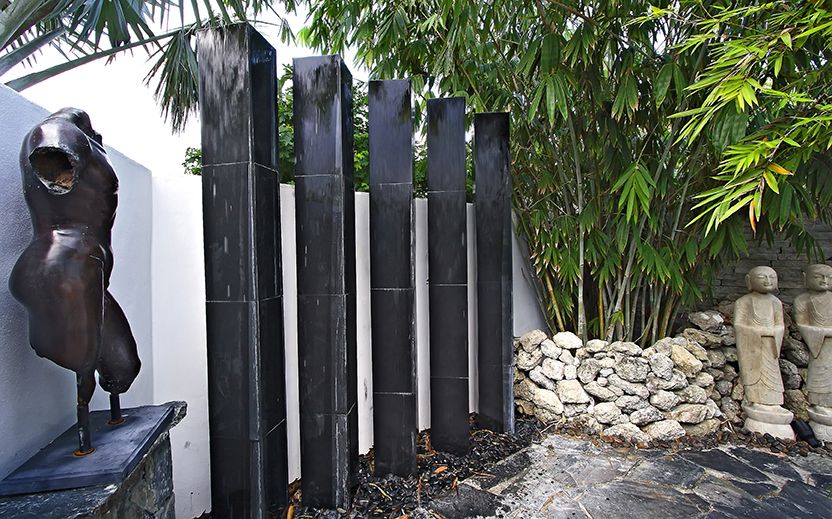 Zen Incarnation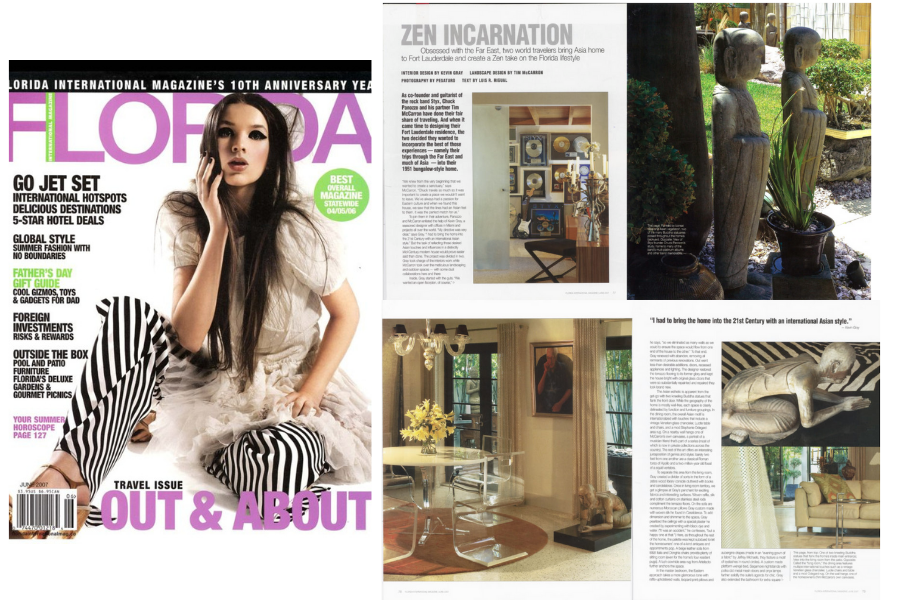 Before: Ft. Lauderdale Mid-Century Bungalow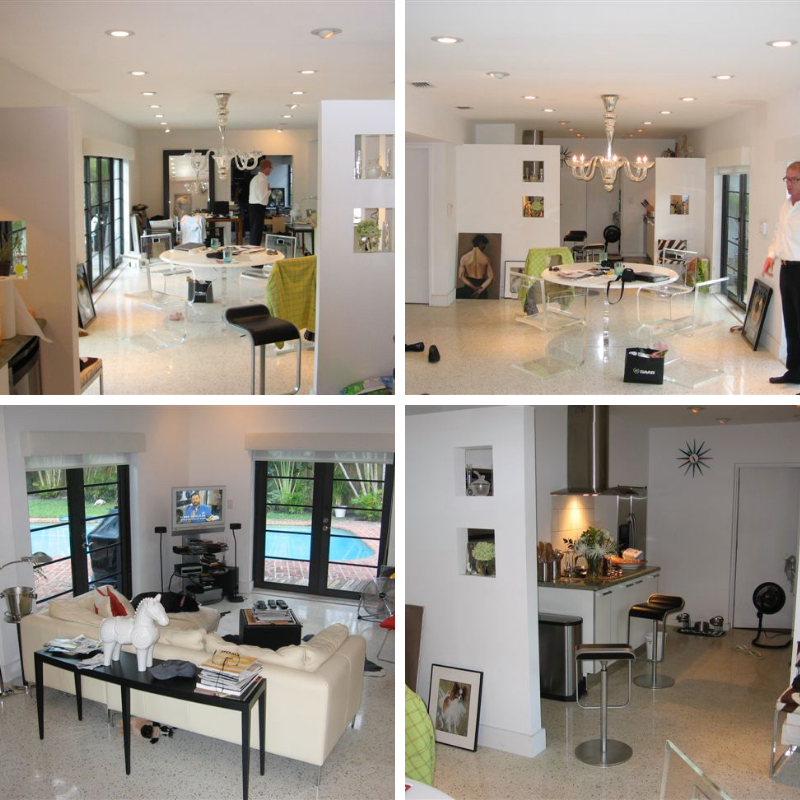 In reminiscing about the Zen inspired renovation project with Styx's Chuck Panozzo, Kevin explains: 
When I first visited the bungalow and gardens I knew there was potential. The 1960's home had undergone shoddy renovations in the 80s and 90s without paying attention to the original lines or it's terrazzo floors, which had been covered with linoleum.
The original living room windows were opened with sets of doors to the terrace, with views to the pool area. We anchored the enormous backyard with a new pool and an extra-wide Cabana, perfect for entertainment.
We had 1960's mini bathrooms with low ceilings and an eyebrow window. The first step was to demo each bathtub and blow out exterior walls, extending the bathrooms to the eve of the house and created indoor-outdoor showers with access to the pool. With the extra space, we designed vanities and in the master, we created a towel closet/rack.
"My directive was very clear," said Kevin. "I had to bring the home into the 21st century with an international style."
With the task of reflecting those desired Asian touches into the landscaping, Kevin took charge of the interior work while the Landscape Architect planned the meticulous outdoor landscaping and fountains.
Inside, Kevin started with the guts. "We wanted an open floor plan of course besides and we eliminated as many walls as we could to ensure the space would flow from one end of the house to the other." To that end, Kevin renewed with abandon, routing out all remnants of previous renovations. Out went less-than-desirable additions, doors, recessed appliances, cut out walls, and outdated lighting. Kevin restored the terrazzo flooring to its former glory and opened the kitchen to a serving bar to the interior courtyard.
Chucks' office is his sanctuary with his guitars, framed Gold and Silver albums, and numerous awards. To separate this area from the living room, Kevin designed a frosted glass sliding panel. Kevin then divided the living room with a custom zebrawood library console with books and candelabras. Once in living room territory, Kevin's penchant for exciting fabrics and interesting surfaces became evident. Woven raffia, silk and grommet curtains on steel rods compliment the terrazzo floors. On the sofa are Moroccan pillows Kevin custom-made with woven silk found in Casablanca, Morocco. To add dimension and shimmer to the space, Kevin Venetian-plastered the ceilings with a special plaster he created by experimenting, which has a reflection of mother of pearl. It was an accident, he confesses, but a happy one at that! Here, as throughout the rest of the home, the pallet was kept subdued to let the Venetian chandelier and vintage appointments pop.
In the master bedroom, the Eastern approach took a more glamorous approach with Kevin's signature touch of upholstered walls in raffia, leopard velvet pillows and auberge drapes made in an "evening gown of a fabric" with the feature motif of eyelashes in round circles. Kevin designed the custom-made bed, sycamore nightstands with metal mesh doors, and onyx lamps that further solidify the suite's agenda for chic. Kevin extended the bathroom under the exterior eaves of the house for additional square footage and installed a large shower with glass doors to give access directly to the pool and backyard.
In the backyard, the pool was designed with custom glass mosaics in iridescent gray, peacock green and blue. The focal point is a grand souk-like gazebo with billowy white curtains and an edge-to-edge sectional. A coarse slate path leads to the next surprise: a wall fountain that incorporates a relief sculpture.
Interior Designer Kevin Gray
Kevin Gray
 is an internationally celebrated interior designer, known for transforming interiors into timeless and unique environments for the most discerning clients in Miami, New York, and Europe. His interiors showcase signature designs that are understated yet sophisticated, straight-forward, elegant and functional. Clean lines and simple but well-crafted furnishings, with an attention to texture and the highest quality materials, are Kevin Gray Design staples. Clients say that the key to Kevin's success is his collaboration with the best architects, craftsmen, and builders. and, while beautiful rooms are Kevin's first consideration, client service, project management, and attention to detail are of the utmost importance.
720 Northeast 69th Street
Palm Bay Towers – Suite 11W
Miami, FL 33138
T: 305 751 4263
F: 305 751 4287