Interior Designer Kevin Gray's Miami Design District Condo Showcased on SoFlo Home Project
Lights! Camera! Action! Kevin Gray Design was proud to again be featured on SoFlo Home Project. The home design show chose to profile Kevin Gray's luxury Miami home and personal residence in Palm Bay Towers on Biscayne Bay in the Miami Design District on the TV show, aired March 6, 2021. Program design expert and host Alena Capra brings the cameras inside renovated luxurious homes in South Florida. Kevin gives Alena a tour of his home and a "show and tell" of his 40-year interior design career highlighting his custom designs and passion for collecting, starting off in Paris where he graduated at Parson's and then lived for 15 years and worked there while designing for his for clients in Hamburg, Zurich and Monaco.
This will be Kevin Gray Design's 4th appearance on SoFlo Home. Watch previous segments here:
Preview Tour of Kevin's Palm Bay Condo
 Photography By Robin Hill
Kevin Gray's condo, in one of Miami's most iconic waterfront buildings, was gutted to open the space to capture spectacular views throughout. Structural columns were clad in gray limestone grid. The kitchen was reconfigured and opened to accommodate access to both terraces on opposite ends for entertaining. Within the living area, French and Chinese antiques flank a KGD custom, 18- foot tufted sofa: sleek, polished concrete floors contrast with the KGD custom, hand-blown scones and Murano glass chandelier. Spy-worthy drama is provided by glass partitions that open the master bedroom and bath – with floating tub – to city and water views.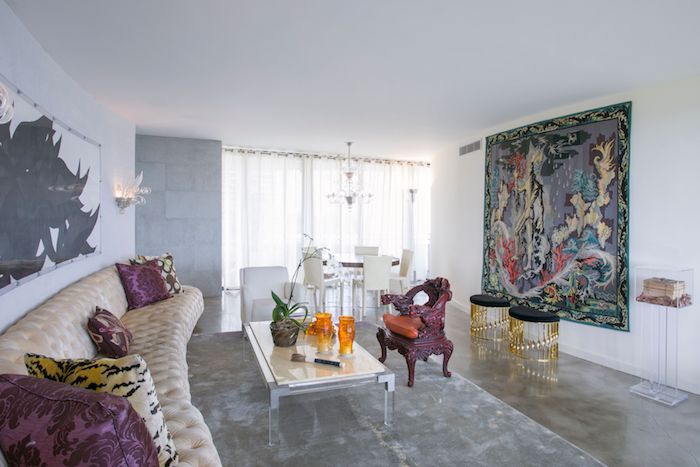 Aubusson Tapestry, "Poseidon" by DeVech
Tropic Florida Living Design Magazine called Kevin Gray's luxury home with 360-degree views over Biscayne Bay to the north and south "timeless, eclectic, modern," saying Kevin "deftly mixed these pieces with items from different eras and origins to create a style that is classic and timeless, but never old fashioned."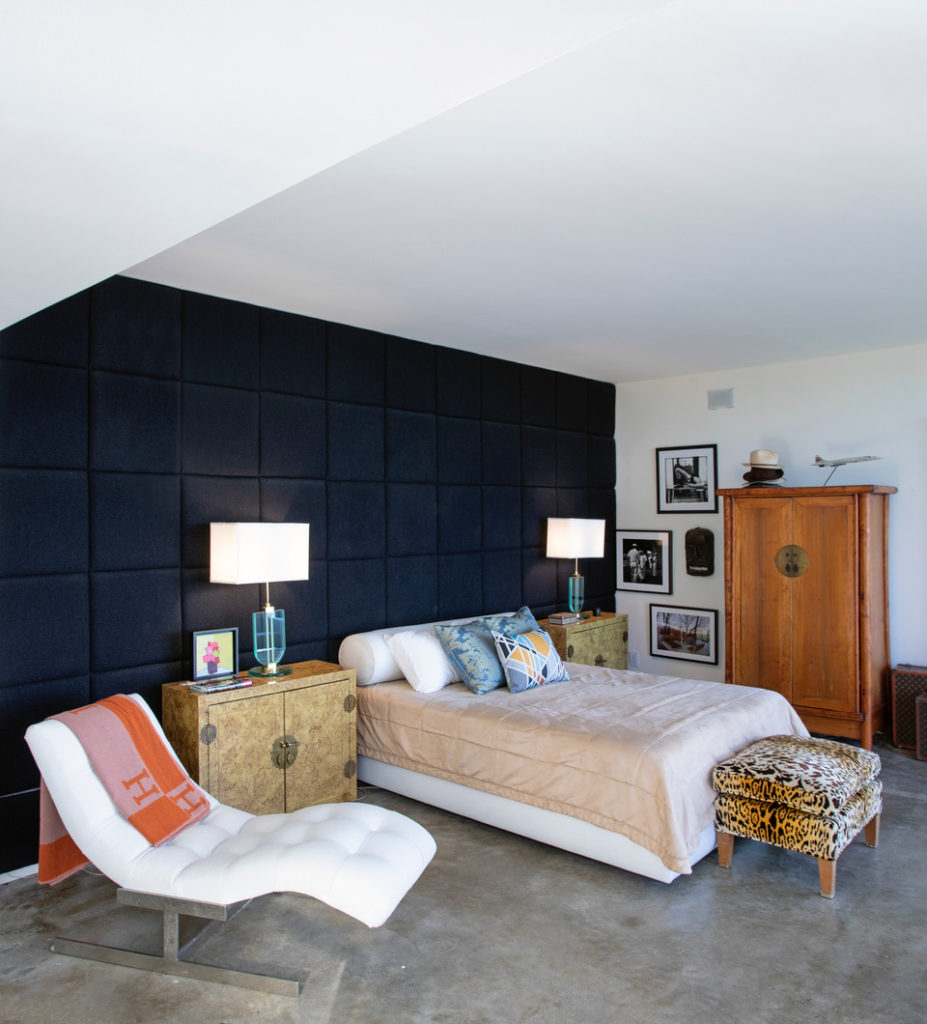 Photo by Robin Hill for Tropic Magazine.
Meet Interior Designer Kevin Gray
Kevin Gray
 is an internationally celebrated interior designer, known for transforming interiors into timeless and unique environments for the most discerning clients in Miami, New York, and Europe. His interiors showcase signature designs that are understated yet sophisticated, straightforward, elegant and functional. Clean lines and simple but well-crafted furnishings, with an attention to texture and the highest quality materials, are Kevin Gray Design staples. Clients say that the key to Kevin's success is his collaboration with the best architects, craftsmen, and builders. and, while beautiful rooms are Kevin's first consideration, client service, project management, and attention to detail are of the utmost importance.
720 Northeast 69th Street
Palm Bay Towers – Suite 11W
Miami, FL 33138
T: 305 751 4263
F: 305 751 4287