DISCOVER WHY MILANO'S SALONE DE MOBILE AND EUROLUCE ARE GLOBALLY RECOGNIZED AS THE QUINTESSENTIAL DESIGN FAIRS FOR INTERIOR AND LIGHTING
Kevin Gray was at this year's Salone de Mobile in Milano, the quintessential fair that introduced Architects and Interior Designers as furniture and lighting designers. Launched in Milan in 1961 as a vehicle for promoting Italian exports of furnishing and accessories, the Salone Internazionale del Mobile is the global benchmark event for the furnishing and design sector.
Most important was Euroluce, the International Lighting Exhibition. It is the biennale trade fair that, between technology and poetry, architecture and design, is a source of inspiration par excellence, with the design dimension at its heart.
Also, during Euroluce we took the opportunity to visit FontanaArte at their design showroom in Corsico and met Hana Dajani the International Sales Manager for a hands-on tour of their extensive showroom, which is a celebration of 90 years of Light and Art. We also visited our lamp manufacturers in Milano, Vicenza, and Padova and discussed ways to improve the lighting technology and design of the ORBIT and ZANDT Lamps.
NEW YORK TIMES STYLE MAGAZINE VIP OPENING PARTY AT VILLA NECCHI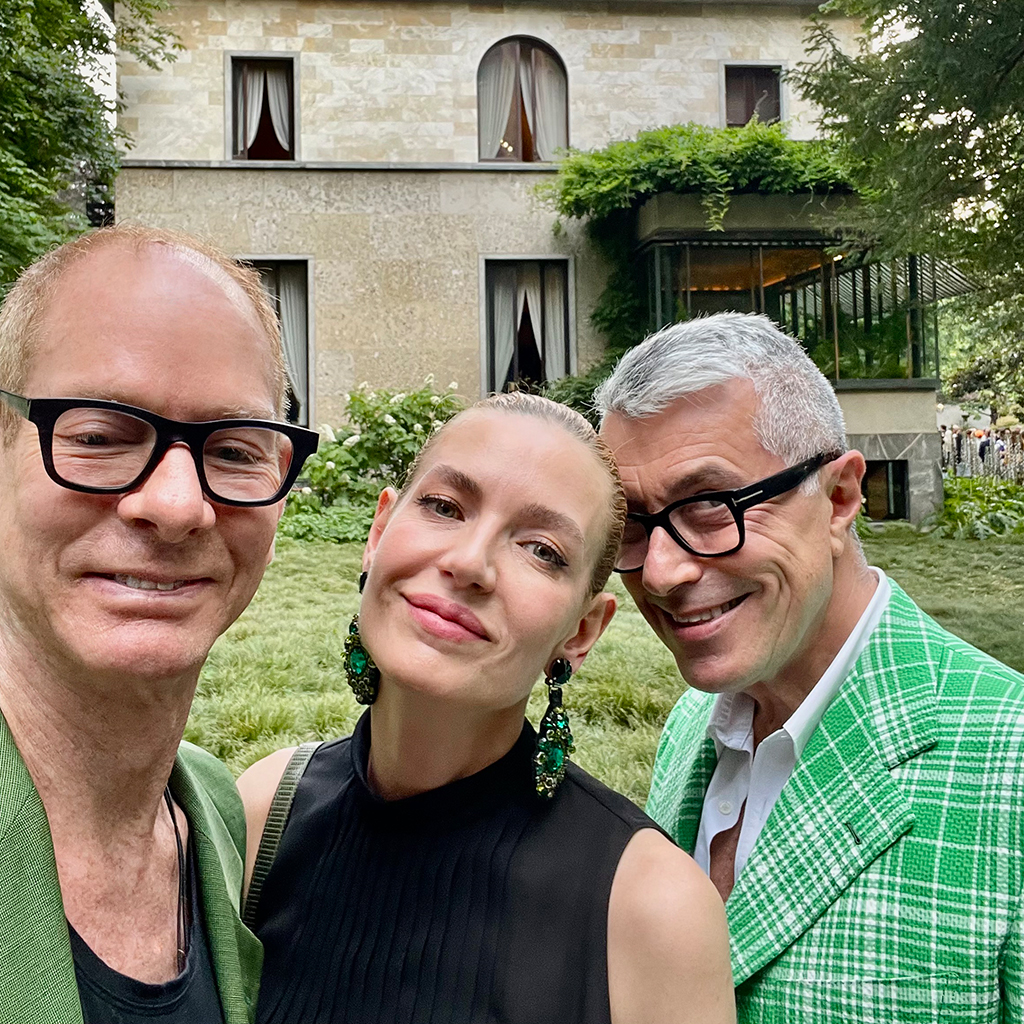 Kevin enjoys catching up with friends at the New York Times Style VIP Opening Party
 Kevin attended the
New York Times Style Magazine's
VIP opening party for Salon del Mobile at the famous
Villa Necchi Campiglio
. Immersed in an ample private garden with a swimming pool and a tennis court and set in the center of Milan, the Necchi Campiglio Villa was completed by the architect Piero Portaluppi in 1935. Commissioning the structure was the Necchi Campiglio family, part of the rich and elegant industrial upper-middle class of Milan in the 1930s. The home is the perfect setting for Salone de Mobile's Opening Party where guests enjoyed a roaring start to Milano's Design Week, the quintessential place to be seen on the global design calendar.
VIP Party Guests at the New York Times Style Magazine's Salone de Mobile Opening Party
Enjoying the New York Times Style Magazine Opening Party from Villa Necchi Campiglio's swimming pool
New York Times Style Magazine VIP Party Guests Gather around the Villa's pool
A view of the swimming Pool's New York Times' Trompe L'Oeil Murals
Party guests enjoying Villa Necchi Campiglio's entrance hall
The evening sneaks in while guests continue to mingle
Salone de Mobile's VIP Opening Party sponsored by New York Times Style Magazine
WHY IS EUROLUCE IMPORTANT?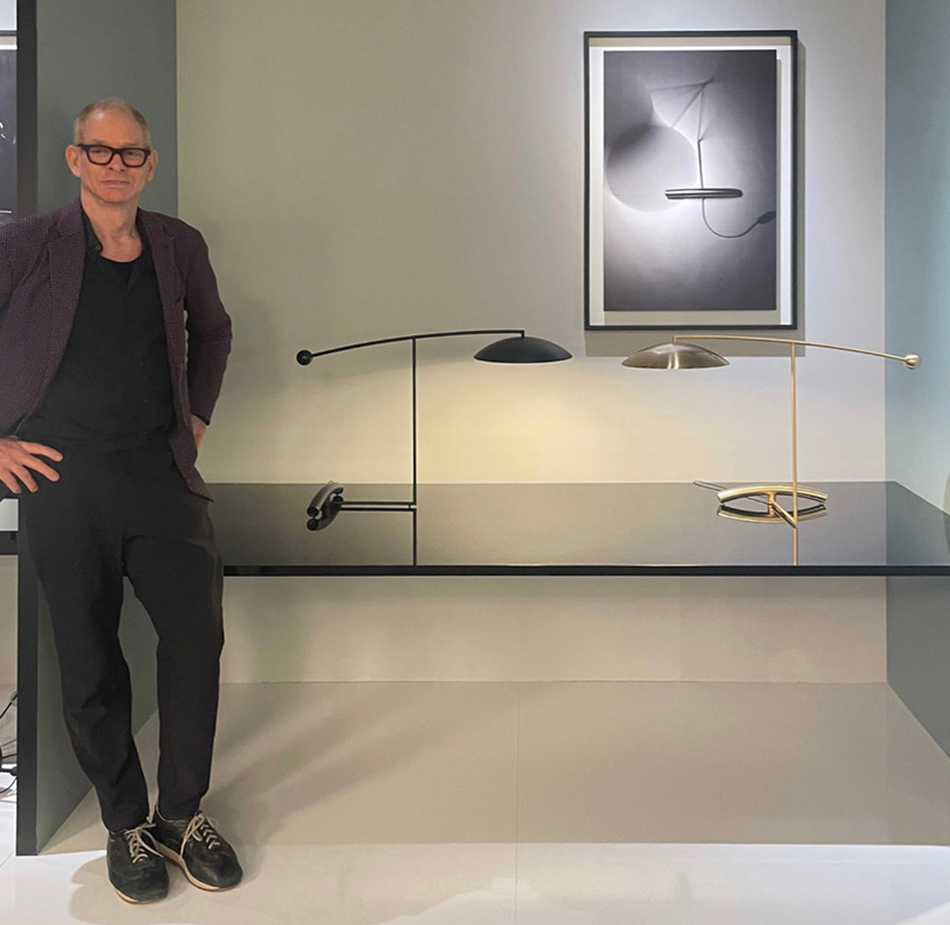 Kevin Gray's Orbit Lamps exhibited at the Lumen Center Stand during Euroluce 2023
Euroluce is important in the respect that you see all the lighting companies from around the world exposing their goods at the fair, their newest designers, and their best sellers. And, Euroluce is the greatest event to regroup with the design reps, international transportation people, and all the designers and lighting designers at the fair. That is what is most important regrouping with the professionals of the lighting industry from all aspects, from wiring to the latest in new technology.
FONTANA ARTE'S EXCLUSIVE TOUR
Kevin would like to say a huge thanks to Hana Dajani for welcoming us to FontanaArte's extensive Corporate Exhibition Space on the outskirts of Milan in Corsico. Two grand floors celebrating over 90 years of Lighting, Art, and Design, with a list of talented, internationally renowned  Architects and Designers, including Gio Ponti, Gae Aulenti, Pietro Chiesa, Max Ingrand. Definitely, lighting for those who are devoted to authentic design philosophy, well engineered, and timeless design. Their lighting archive is astonishing, bravo FontanaArte!
FLOS Lighting an exceptional treat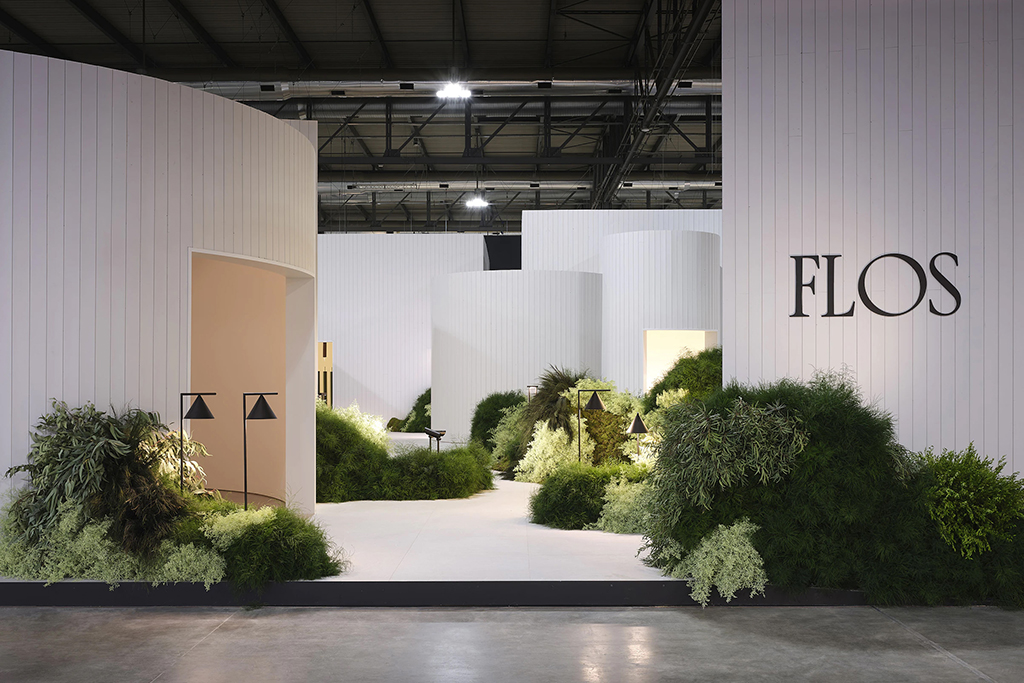 The Flos Stand at Euroluce 2023, Milano  | Photo courtesy of FLOS
Thanks a million to the amazing Joe Martinez, Kevin's dear friend and trusted Flos lighting designer and sales representative with whom he has collaborated over many of my years. Joe gave a personal tour of the Flos Lighting Pavilion at Milano's prestigious Euroluce, as well as a private tour at the Flos Flagship Store in Milano, followed by a dinner party hosted by Flos
Kevin is with his dear friend and colleague Joe Martinez, the Business Development Manager Florida & Puerto Rico
new workspace solution by Flos Architectural.
In 1958, Gino Sarfatti created 2097 White, a modern take on the chandelier
Flos assortments in Suspension Lighting, My Disc, Suspension Garden, Glo-Ball Suspension
Flos explores the world of ceramics for the first time with Céramique
Céramique is an elegant pleasure entirely handcrafted by Ronan Bouroullec
Kevin joins Joe Martinez and friends for a dinner party hosted by Flos
Join Kevin as he visits the FLOS Stand at Euroluce 2023
KEVIN MEETS DOCTOR AUGUSTO GRILIO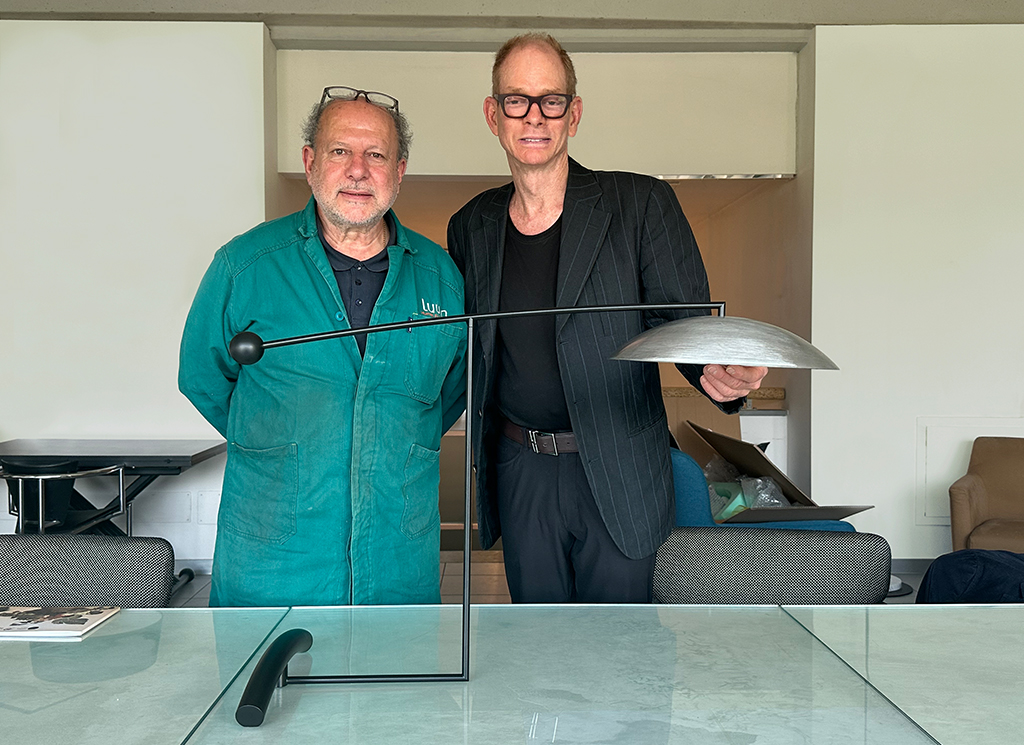 Kevin presents the latest Orbit Lamp prototype to Dr. Augusto Grilio at the Lumen Center in Milano 
Kevin was fortunate to meet Dr. Augusto Grilio, president of Luum, and Lumen Center partner who has dedicated his life to the sciences of LED lighting and has researched how bad lighting choices can be detrimental to our environment, mental health, and most importantly, our eye's retina cells. Augusto is the leading scientist in LED well-being in Europe. We look forward to encapsulating this knowledge and its technology into KGD's R&D of the Orbit Lamp and Kevin Gray Lighting designs.
This a very important video regarding  LED Lighting and how it can be harmful to our well-being
Creative, Fresh, Innovative:
Contact Lighting, and Interior Designer Kevin Gray
Kevin Gray is an internationally celebrated Lighting and Interior Designer, known for transforming interiors into timeless and unique environments for the most discerning clients in Miami, New York, Washington D.C. and Europe. His interiors showcase signature designs that are understated yet sophisticated, straight-forward, elegant and functional. Clean lines and simple but well-crafted furnishings, with an attention to texture and the highest quality materials, are Kevin Gray Design staples. Kevin is known for his sensibility of style by mixing the unexpected with unique vintage pieces and fabrics. Clients say that Kevin's key to his success is his trusted history of collaborations with the best architects, craftsmen and builders
720 Northeast 69th Street
Palm Bay Towers – Suite 11W
Miami, FL 33138
T: +1 305 751 4263