Join Kevin on Saturday 17th September at 5:30 PM on Channel 10 ABC for a tour of his latest project with SoFlo Home Project's Alena Capra. For those who don't live in South Florida, we will send out a newsletter in early October with a link to view the show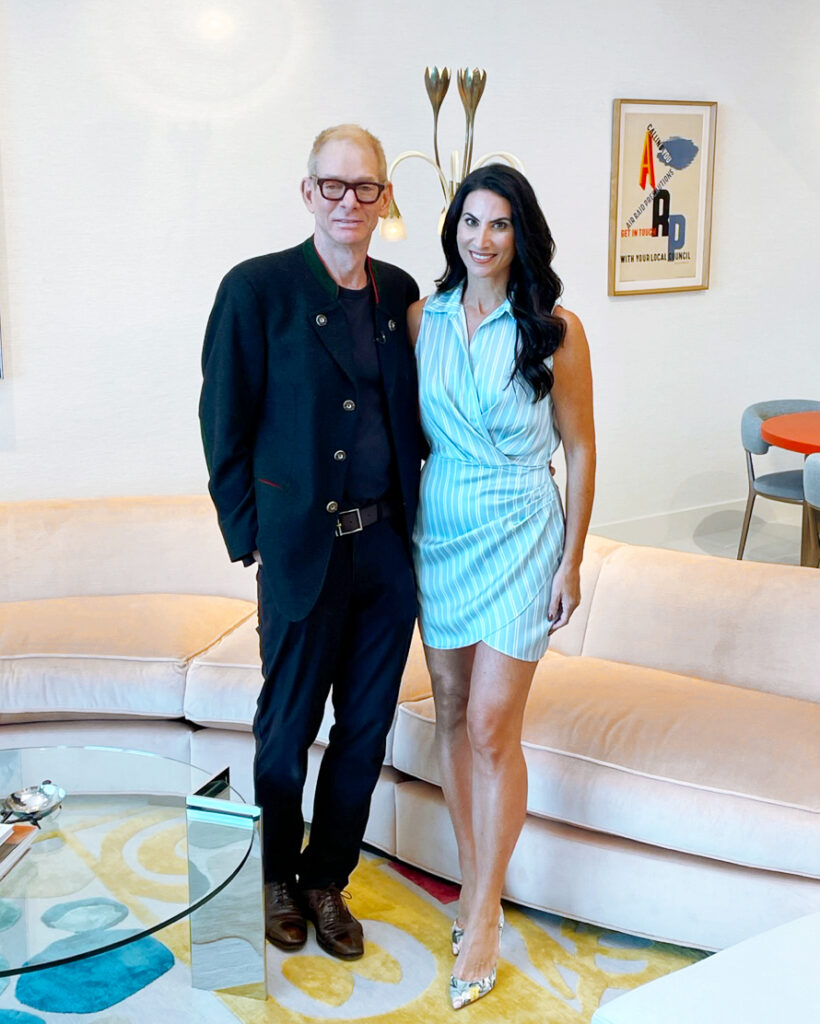 Kevin Gray is with SOFLO HOME PROJECT'S Alena Capra
Kevin will appear for his 7th consecutive year on SoFlo Home Project on the 17th of September at 5:30 PM together with his host, the beautiful and multi-talented Alena Capra who is also an established designer and talk show presenter.  Together they will be showing you around the interiors of the Park Grove Tower One that Kevin redesigned and will be giving away some of his design tips on his inspiration for the layout and color palette of this beautiful floor thru apartment.
Kevin Gray designed this floor-through apartment at One Park Grove by Pritzker architect Rem Koolhaas. The apartment has 12-foot ceilings facing Coconut Grove's Marina on Biscayne Bay with sunrises, and the other side has sunsets overlooking the village of Coconut Grove. Kevin Gray Designs appointed FLOS Lighting to work on all new lighting to illuminate the client's art collection and decorative objects. The first piece we ordered was the custom living room rug inspired by a Viennese gem-encrusted jewelry box that set the stage for the apartment's furniture, and colorful pallet. Special attention was given to each piece of furniture, fabrics, and antiques, with a mix of vintage and some custom furniture.
The apartment walls were papered with a new Echo wall covering from Holly Hunt, which provided both texture and warmth and helped with sound absorption from the ceiling heights and marble floors throughout. The center wall facing the entrance hall conceals the kitchen and was painted in bronze Venetian stucco to work with the client's Trompe L'oeil painting of Venice. 
The clients had a French Art Nouveau bedroom set for the principal bedroom and an English antique bed for the guest bedroom, and Kevin designed some custom millwork in both bedrooms. Kevin shopped with the clients in NYC and selected some signature vintage Italian pieces from Donzella, a Borsani 1940s wardrobe for the principal bedroom, and a vintage Art Nouveau style floor lamp by Angelo Lelii for Arreluche for the living room from Donzella NYC. Kevin also visited the Paris Flea Market shopping for our Clients and found a rare Lotus Table Lamp in perfect condition. It was designed in 1966 by Carlo Nason for Mazegga in Murano Glass, Italy. It was a great purchase and we had it shipped by international transportation to Miami along with other vintage pieces for the apartment.
Kevin Gray custom-designed all-new millwork with swing and pocket doors that provided a better flow to the apartment. He also exposed two concrete structural columns inside the apartment by Rem Koolhaas that are visible outside the building and on the terraces. The guest bathroom was gutted and re-designed with a free-form oval tub with an accent wall of hand-glazed turquoise tiles juxtaposed with Rem Koolhaas's exposed concrete plaster finish column at the entrance to the bathroom. Kevin designed custom-made bathroom vanities for the guest bathroom as well as the powder room.
The kitchen and principal bathroom pocket doors were re-designed with floor-to-ceiling frosted glass pocket doors. The principal bathroom was painted in lilac Venetian plaster and Kevin found a French Art Deco panel in polychrome lacquer with an engraved animated underwater background that was placed over the tub's mirrored wall, which tied the bathroom's final color palette together.
Kevin took the 3 doors between the den/office and the guest bedroom and clad the entire wall from floor to ceiling in rift oak to tie in the kitchen's oak finish as an accent panel reminiscent of the Philip Johnson-designed Four Seasons restaurant located in the Seagram Building in New York City.
The Living room under reconstruction overlooking Coconut Grove's Marina
PRIME BEDROOM IN PROGRESS
LIVING ROOM AND KITCHEN CEILING, AND HALLWAY UNDER RECONSTRUCTION
Images taken before and during the apartment's transformation
One Park Grove was under construction when KGD commenced work. The images above were taken when the apartment was under reconstruction. 
Images Taken After The Apartment's Transformation
Our clients moved to the new apartment in December 2022. The 12-foot high gallery ceilings were ideal to set the stage for the client's decorative objects and extensive art collection. By personalizing the space for our client, it made it feel like their ideal home.
VISIT KEVIN'S PORTFOLIO FOR MORE IMAGES
Creative, Fresh, Innovative:
Contact Lighting, and Interior Designer Kevin Gray
Kevin Gray is an internationally celebrated Lighting and Interior Designer, known for transforming interiors into timeless and unique environments for the most discerning clients in Miami, New York, Washington D.C. and Europe. His interiors showcase signature designs that are understated yet sophisticated, straight-forward, elegant and functional. Clean lines and simple but well-crafted furnishings, with an attention to texture and the highest quality materials, are Kevin Gray Design staples. Kevin is known for his sensibility of style by mixing the unexpected with unique vintage pieces and fabrics. Clients say that Kevin's key to his success is his trusted history of collaborations with the best architects, craftsmen and builders.
720 Northeast 69th Street
Palm Bay Towers – Suite 11W
Miami, FL 33138
T: +1 305 751 4263