Kevin Gray and the design team at Kevin Gray Design work with businesses and homeowners to create outeriors that do double-duty as outdoor or home offices and living spaces. Backyards, patios, balconies and gardens can become multi-purpose live/work spaces that provide benefits for physical health and mental well-being. Today's outdoor rooms must function as flexible Live/Work/Play spaces that provide a truly seamless transition between indoor and outdoor living.
Below are some examples of how Kevin and the KGD team work with our home and business clients to create outdoor living spaces that do double-duty during the pandemic. Plus, be sure and read our Outerior Design Elements To Watch In 2021 below.
Featured Image:
The view from interior designer Kevin Gray's condo
Terrace at Paramount Residences in Fort Lauderdale
This oceanfront luxury condominium in Ft Lauderdale, Florida, features 11-foot high floor-to-ceiling sliding glass doors that open onto a large terrace with panoramic ocean views. With a large dining table that does double-duty as a conference table, the terrace at Paramount Residences is ideal for client meetings, working from home or a family dinner.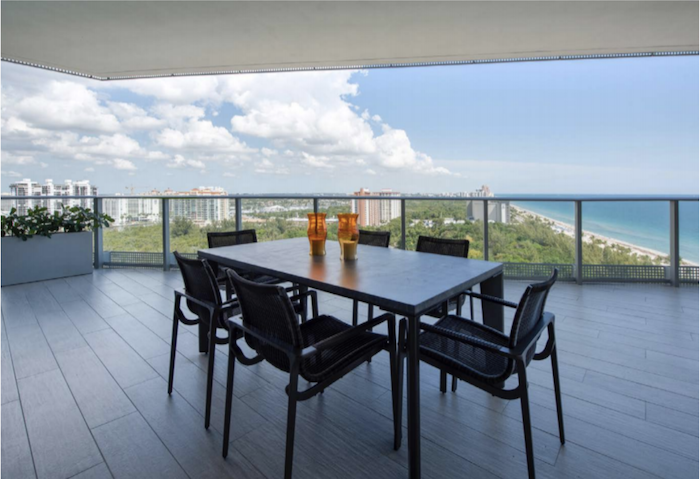 See more photos of this new build condo design project at The Paramount. 
Balcony of Washington D.C. Luxury Duplex Penthouse
Kevin used off-white outdoor sectional seating from SIFAS, mixing colorful Knoll dining chairs and vibrant accent color from Donghia's Sunbrella fabric throw pillows and cushions on vintage wrought iron pieces.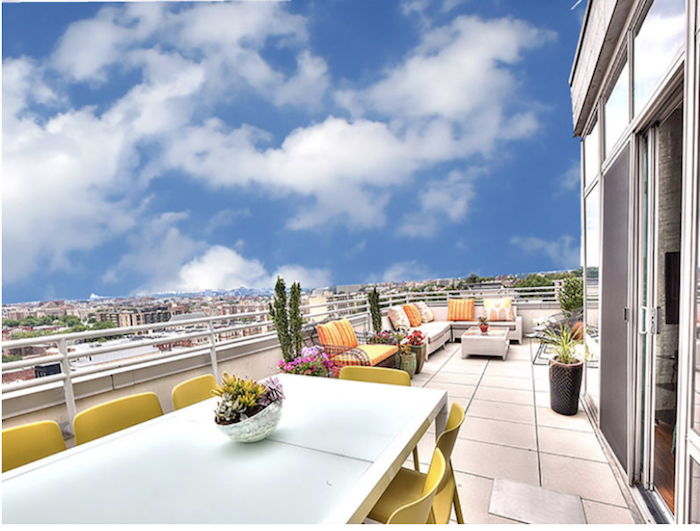 See more photos of this apartment designed for entertaining and living.
NYC Rooftop Terrace With Skyline Views
Kevin designed this roof terrace of a Sutton Place penthouse with views of the New York City skyline and Hudson River. The rooftop of the building features an elegant penthouse with a panoramic view of the city: below it is the entire New York City skyline, with the towering Citicorp Center, Chrysler Building and Empire State Building in the foreground and a breathtaking view of the bridges that stand the Hudson River behind them.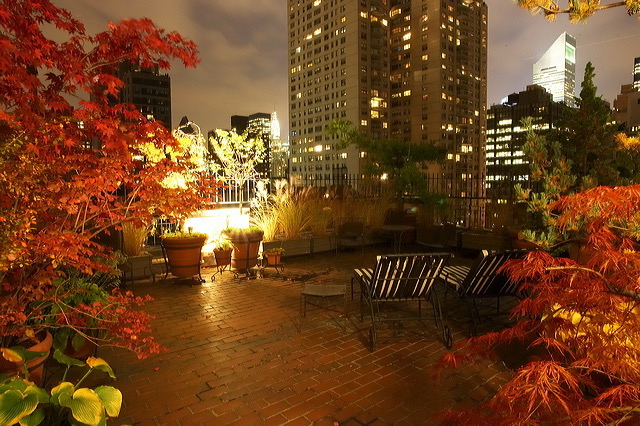 Read more about the Sutton Place penthouse gut renovation project. 
Outerior Design Elements To Watch In 2021
Good design should seamlessly transition between indoor and outdoor living. Luxury living isn't about incorporating the latest design trends into your home, explains Kevin.
"True luxury is creating timeless designs that reflect your personal style and layering them with modern touches that provide comfort, convenience and usability that supports your lifestyle. True luxury is designing a home or office that reflects how we live today."
1. Indoor/Outdoor Fabrics
Our top client requests include indoor/outdoor luxury fabrics are the rage now, made with solution-dyed acrylics that are bleach cleanable and machine washable. Outdoor rugs of the same fabric create a safe and weather-proof environment to enjoy the outdoors without worrying about maintenance. These fabrics and are designed by skilled artisans and designers, are durable and are fade, mildew and stain-resistant – yet comfortable to sit or walk on. 
2. Outdoor Lighting
Outdoor LED lighting for tables, walls, floors and walkways feature convenience and usability. LED lights last longer, and are eco-friendly. LED lights are ideal for entertaining, and provide security to your yard with features including motion sensors and solar power. Some of my favorite LED lighting options at KGD are by FLOS Lighting in Italy with stunning contemporary designs in outdoor lighting fixtures. Lighting serves different purposes, from delivering the ability to perform specific tasks to highlighting a beautiful vignette to providing safety – and all these lighting jobs can be done with style and beauty. 
3. Seasonal Comforts
Whether you live in tropical South Florida or Upstate New York, seasons change and outdoor living requirements change with the seasons. To maximize your outerior spaces and outdoor living, planning for changes in the weather is key to comfort and usability. Covered spaces, ceiling fans, misters, fireplaces and gas firepits and electric heaters moderate the weather to make exterior living a year-round reality. Eco-friendly outdoor patio heaters are safe, efficient and environmentally friendly – and let you work and socialize outdoors year-round. 
4. Multi-Purpose Furniture
Incorporating multi-purposed furniture such as dining tables that act as conference tables for client meetings, using color and layering carpeting, plants and pillows creates a seamless transition from interiors to outeriors. Outdoor rooms should be carefully styled using the same design and functionality principles used in interior design, but also incorporating the beauty and serenity of nature into the design. 
5. Connectivity
More attention needs to be paid to electrical and connectivity features for outdoor live/work spaces in 2021. An outdoor workspace that doesn't connect to your home's wifi or electrical outlets that require a series of extension cords are both dangerous and inefficient. Designing outeriors that seamlessly connect to how we live today are critical aspects of truly seamless indoor/outdoor living design.
Interior Designer Kevin Gray
Kevin Gray
is an internationally celebrated interior designer, known for transforming interiors into timeless and unique environments for the most discerning clients in Miami, New York, and Europe. His interiors showcase signature designs that are understated yet sophisticated, straightforward, elegant and functional. Clean lines and simple but well-crafted furnishings, with an attention to texture and the highest quality materials, are Kevin Gray Design staples. Clients say that the key to Kevin's success is his collaboration with the best architects, craftsmen, and builders. and, while beautiful rooms are Kevin's first consideration, client service, project management, and attention to detail are of the utmost importance.
720 Northeast 69th Street
Palm Bay Towers – Suite 11W
Miami, FL 33138
T: 305 751 4263
F: 305 751 4287