Kitchen Design Tips
A home renovation on Bay Harbour Island by Kevin Gray Design was recently featured on SoFlo Home project, "A Home For Bay-Dreams." Kevin and Martin Amado toured the condo kitchen, and the features Kevin designed that combine functionality, practicality and style.

First and foremost, a kitchen has to be functional.
– Interior Designer Kevin Gray
The kitchen was completely gutted. Originally, the kitchen was completely closed off – you had no idea you were on the bay, there was no view. Some of the design features Kevin used in the sleek, modern gourmet kitchen of this Bal Harbor, Florida waterfront gut and rebuild include:
Bookmatch Island Counter


Bookmatching is taking 2 or more slabs of marble, stone, porcelain or granite and flipping them then putting them together as a mirror-image so the patterns meet, like an open book, so both sides are the same and the patterns match.
Honed Finish


Porcelain and other natural or manufactured stone can be ground to a smooth, flat consistent surface that is durable and stain-resistant and you can cut on it.
Seamless, Hidden Cabinets


No hardware visible and the refrigerator is hidden behind doors. There are no pulls, to the eye is not distracted by any hardware but you can still open and close them easily.
Car Lacquered Cabinets


Spray paint kitchen cabinets with the same type of lacquer paint used to spraypaint cars. It's baked on so it is very durable.
Island Cabinets On Both Sides
Storage on both sides of the island so from the dining room you can serve, and from the kitchen, you can find your pots and pans.
Suspended Cooking Hood 


The hood is flush to the ceiling and pulls the smoke and smells up, but it doesn't distract.
Double Ovens in White Class
The white glass disappears, stainless steel would conflict with the art and the views.
Pull-Out Island Seating
Instead of barstools, at the end of the cabinet an extension pulls out,

ideal for breakfast or quiet intimate dinners.
Wine Tower and Dry Bar 


The wine cooler is integrated into the kitchen design, with a pull-out bar next to it.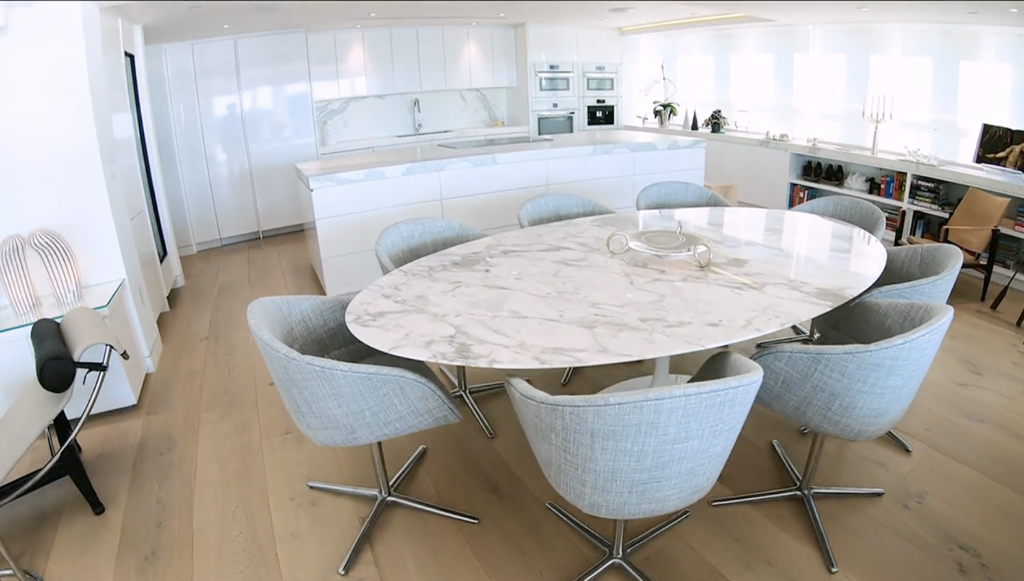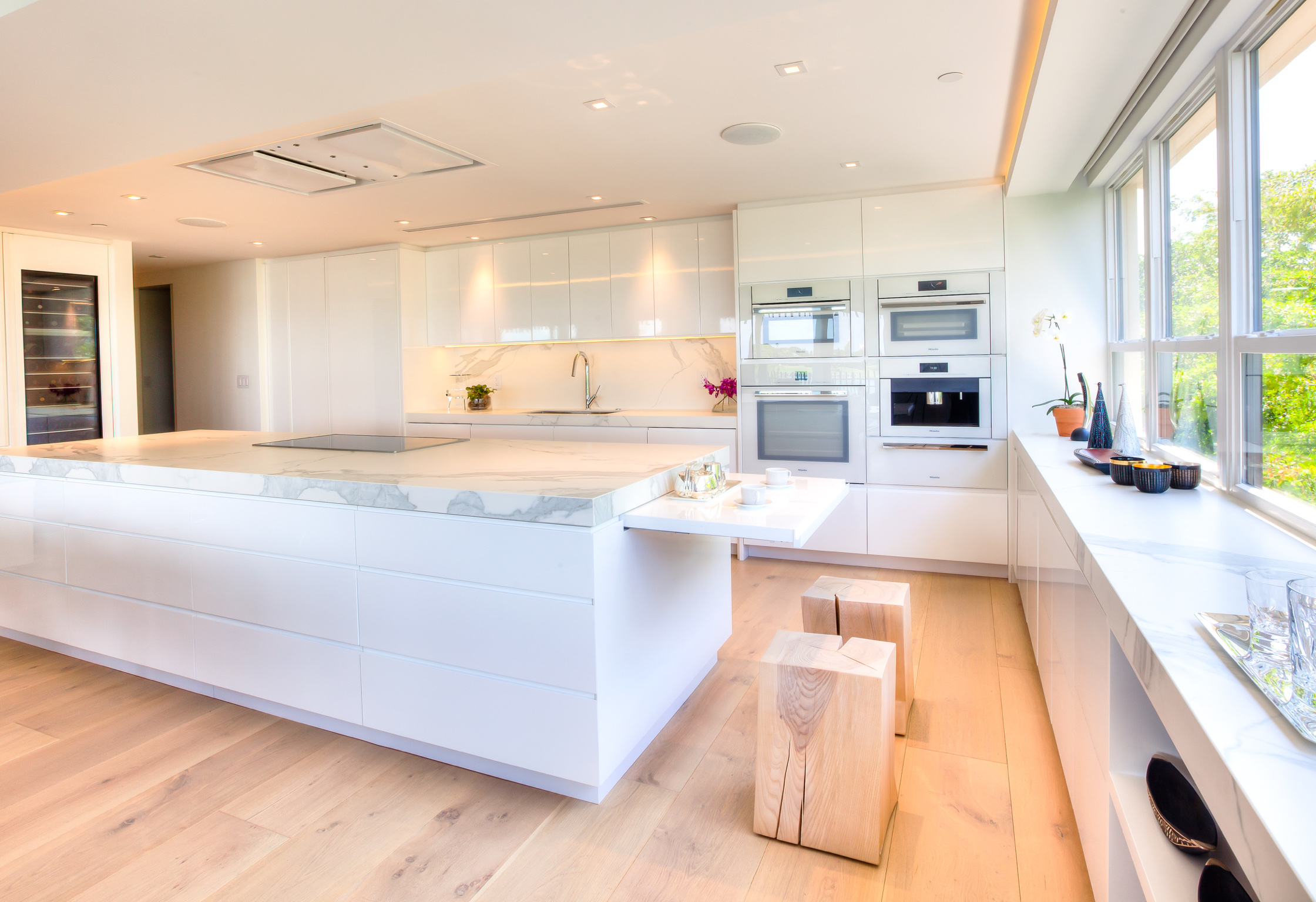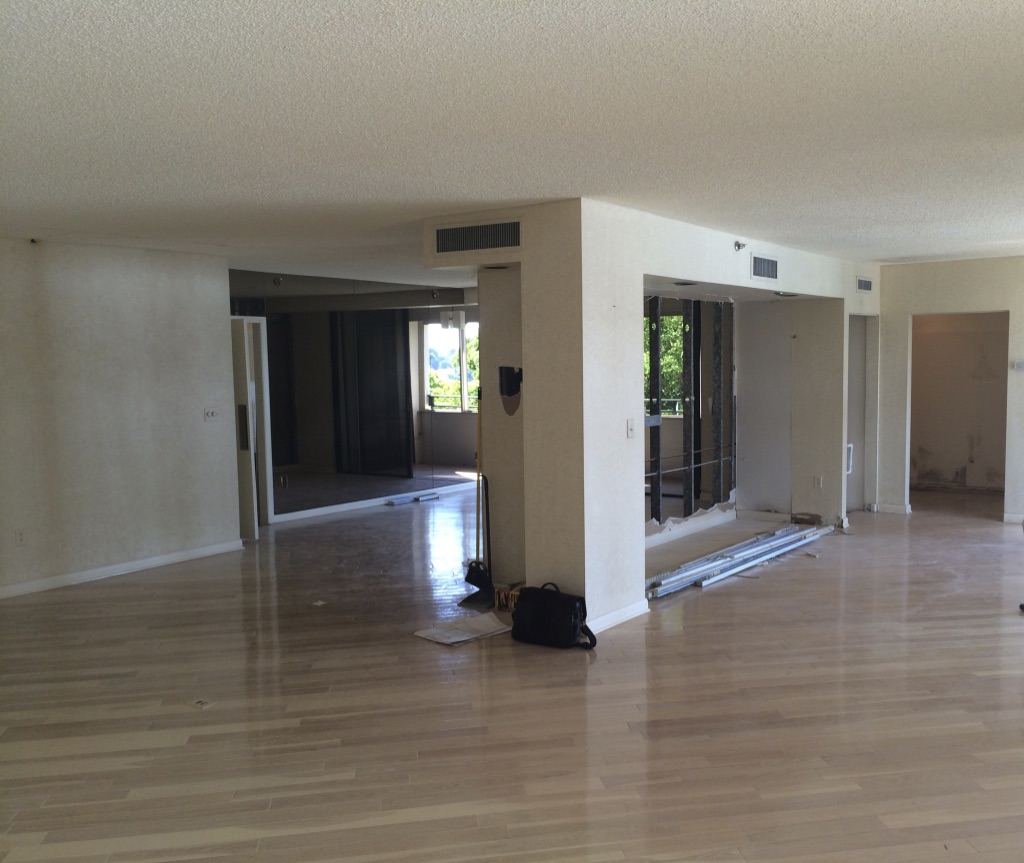 10 more kitchen design tips from interior designer Kevin Gray:
Mount kitchen cabinets higher for easy access: no hitting heads and or blocking views!

Use under-counter LED dimmable lights for a soft glow 

Install cabinet edge pulls or recessed groves so hardware disappears but you can easily open drawers

Quartz or porcelain countertops require minimal or no maintenance and resist stains

Glass backsplashes soften the area

Use mirror backsplashes in smaller kitchens to open up the room

Mirrors in kitchens provide a window effect, especially if the room has no natural light

Install large pull-out drawers for pots and pans

Ceiling flush circulating hoods work with lower ceiling heights and prevent banging your head

Induction cooktops, like gas, cook faster and are more energy-efficient – and give off NO heat 
See more of this renovation here.