Updated April 24, 2022:
Kevin recently filmed an upcoming segment of the SoFlo Home Project with design expert and host Alena Capra Designs, featuring his recent project at the Ritz-Carlton Residences in Miami Beach! This is the 6th time interior designer Kevin Gray has been featured on the home design program showcasing his South Florida design projects.  
Tune in on Saturday, June 4 at 11am to check out the full segment!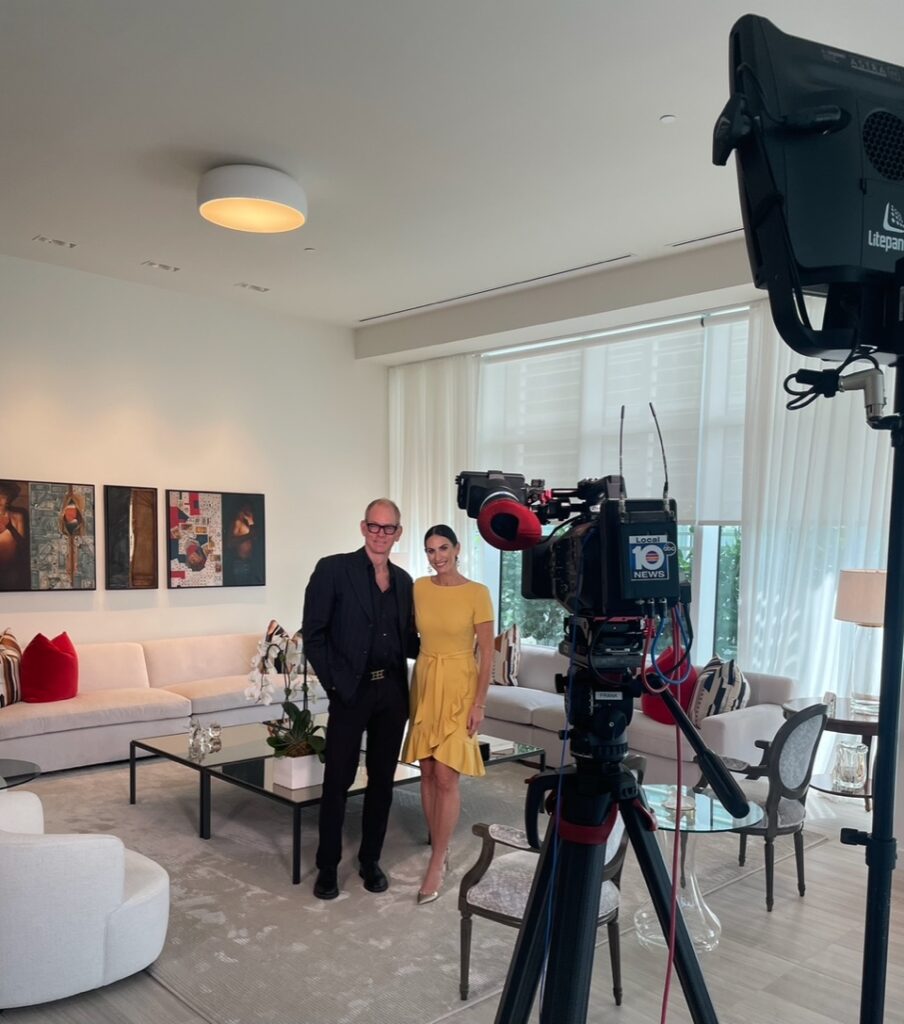 Kevin Gray's recent interior design project at the Ritz in Miami Beach featured 13 feet, loft-like ceilings and floor-to-ceiling windows framing a background of palm trees. Kevin Gray Design worked hand in hand with clients at The Ritz-Carlton Residences in Miami Beach, set in a quiet corner of Miami Beach where a private lake and waterway join the ocean. Kevin's new clients moved to Miami with their antique furnishings and art collection. This apartment was bought by a quintessential New York couple that moved to Miami during the pandemic and decided to call this apartment "home." Kevin was referred to his new clients via good friends. The client's mother was French and raised in Buenos Aries – the antiques are from Paris.
Interior Designer Kevin Gray

Kevin Gray Design brings chic, state of the art, modern elegance to this home. The apartment actually looks like a townhouse with almost 13 feet height throughout the entire space!

I was blown away by the ceiling height with sunshine coming thru the floor to ceiling windows overlooking palm trees. My instinct was to mix the old with new sofas, chairs and new Flos lighting to pull everything together.

I'm so grateful to have Shawn Clarke, my lead designer and project coordinator, on this project: I couldn't have done it without him.
KGD kept the color pallet neutral to work with the colors in the client's paintings. The only color that we added is in the accent pillows on the grey velvet sofa. For the dining room, we selected B&B light wood cane back chairs, with white leather seats, in contrast to the antique French dining table. Kevin designed a custom console in rosewood and white lacquer for the dining room window.
All photography by Vala Kodish 
Living Room 
We grounded the living room with a pair of custom KGD 12 foot sofas and a set of 3 coffee tables under a Flos surface mount fixture. We were fortunate to find a pair of vintage Murano tables from Palm Beach Auctions to work with two sets of chairs set around the coffee tables.
FLOS Johnny 120 Adjustable Recessed Fixtures to illuminate the art. Chosen in white not to attract attention to the ceiling.
FLOS Smithfield Fixture for general diffused lighting.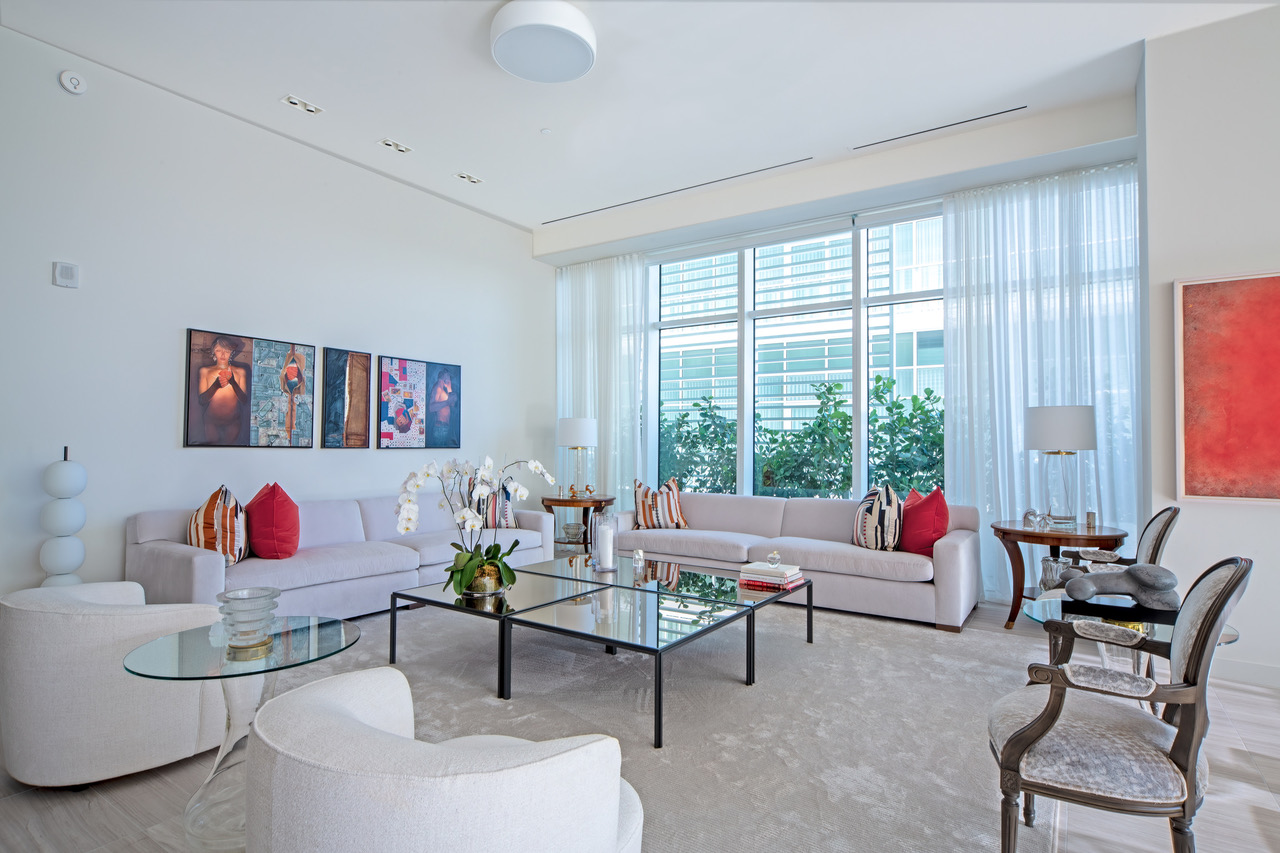 Dining Room
We used Flos Lighting in recessed spots to focus on the art and a pair of large Murano glass pendants over the dining table to provide adequate lighting.
FLOS Noctambule Glass Pendants designed by Konstatine Grcic.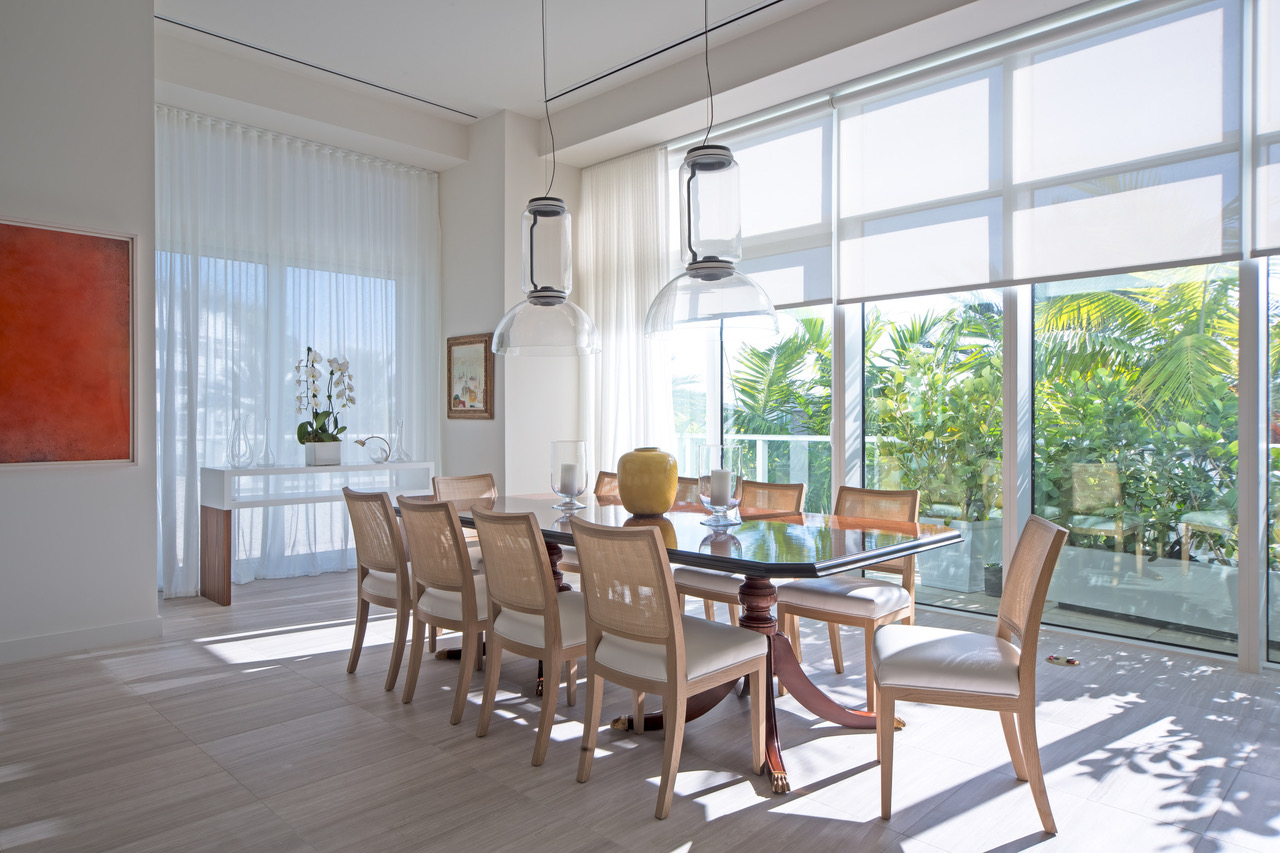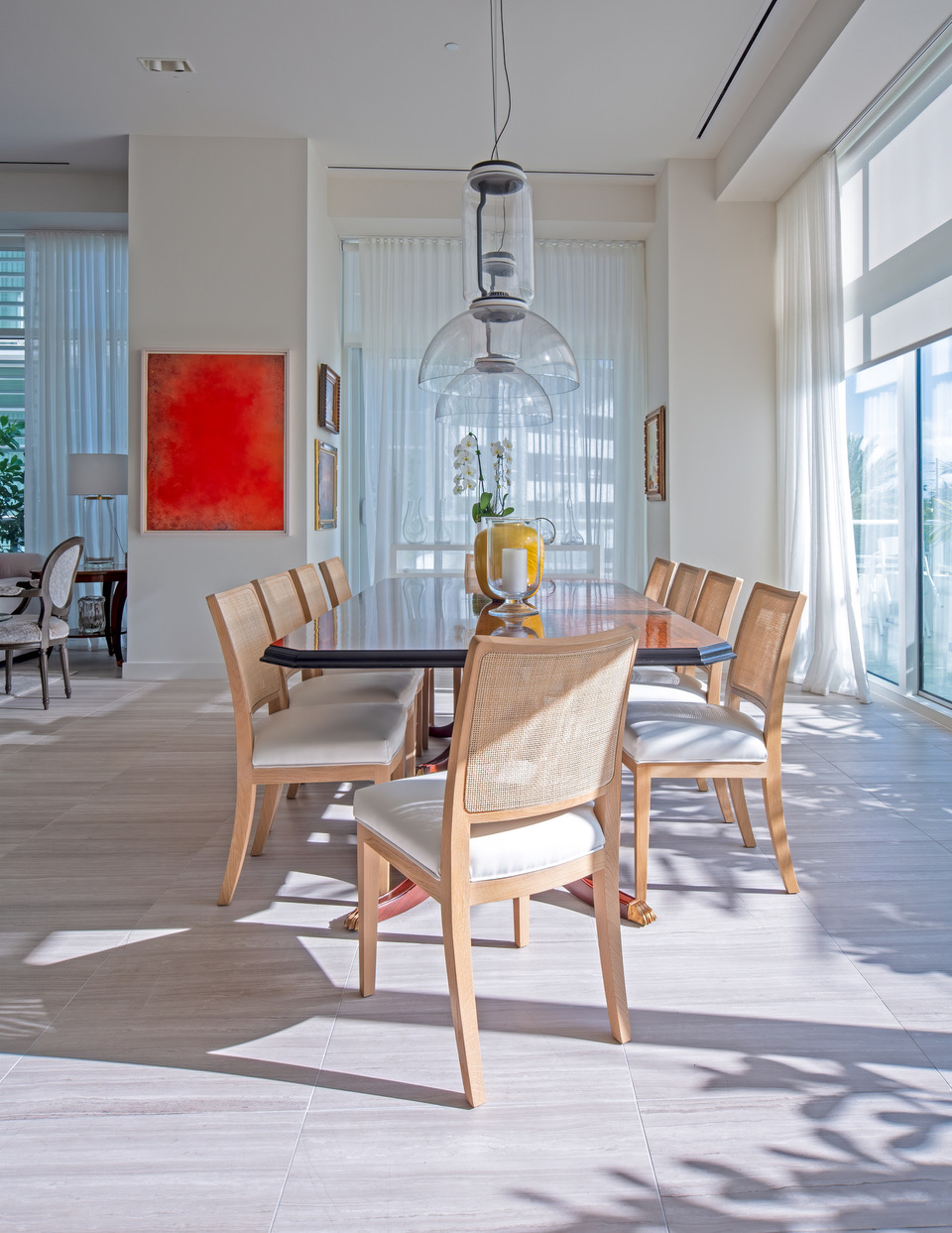 Kitchen
Holly Hunt white leather counter stools were selected for the kitchen island facing the living room.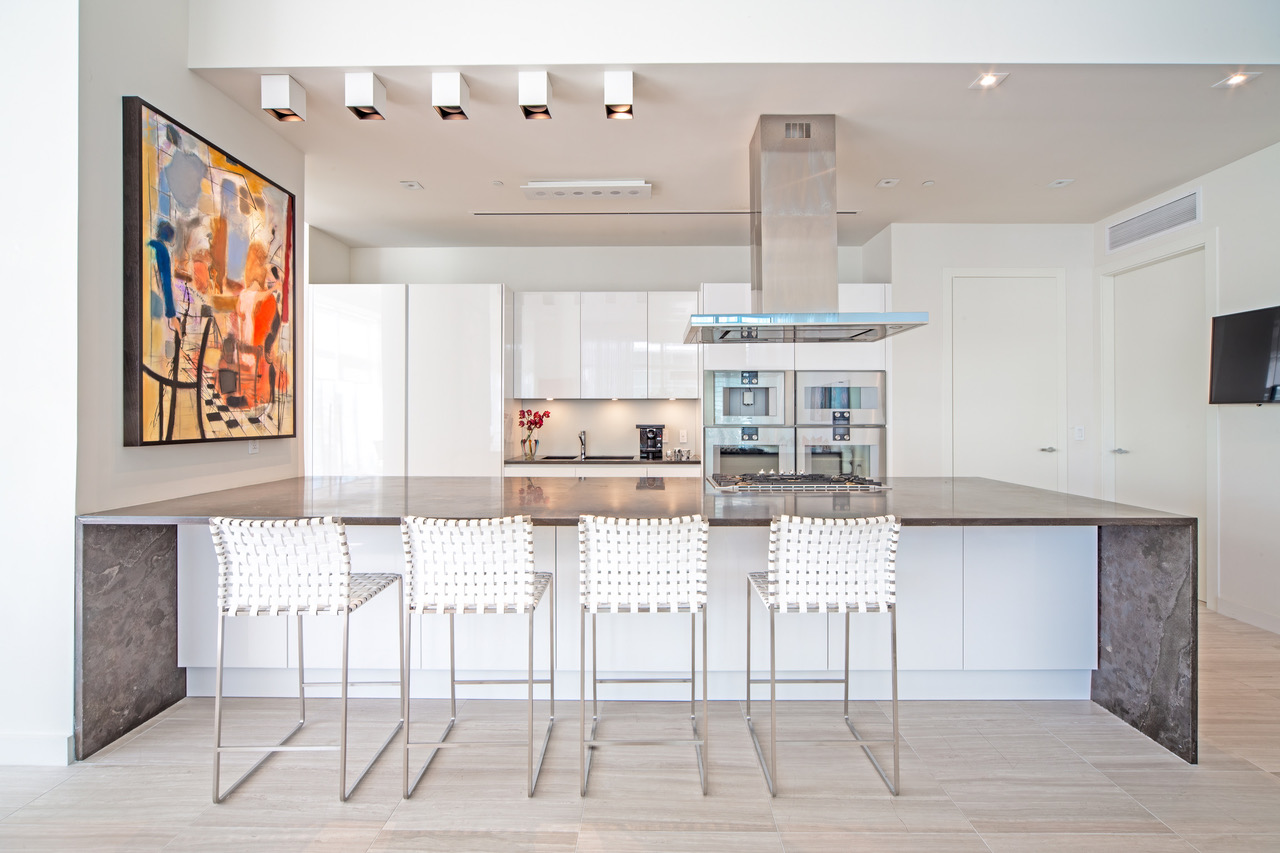 Bedroom
Custom headboard & frame

Custom nightstands and vintage mother of pearl lamps with black string shades

Custom ottoman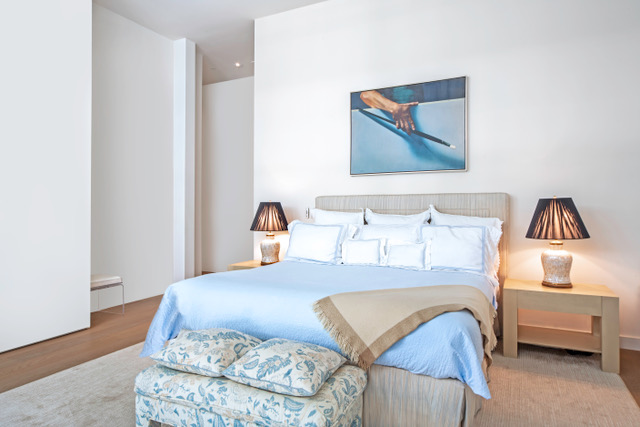 Expansive Living Areas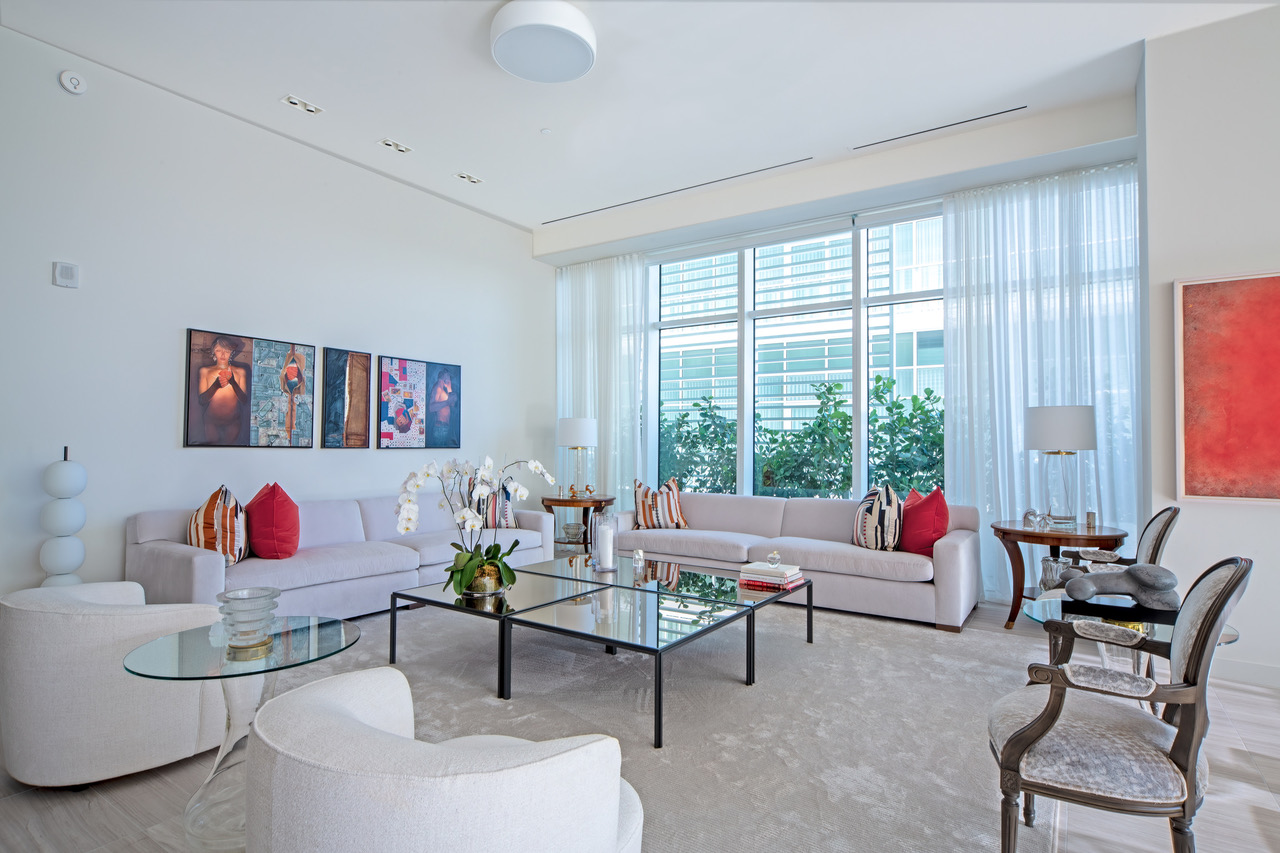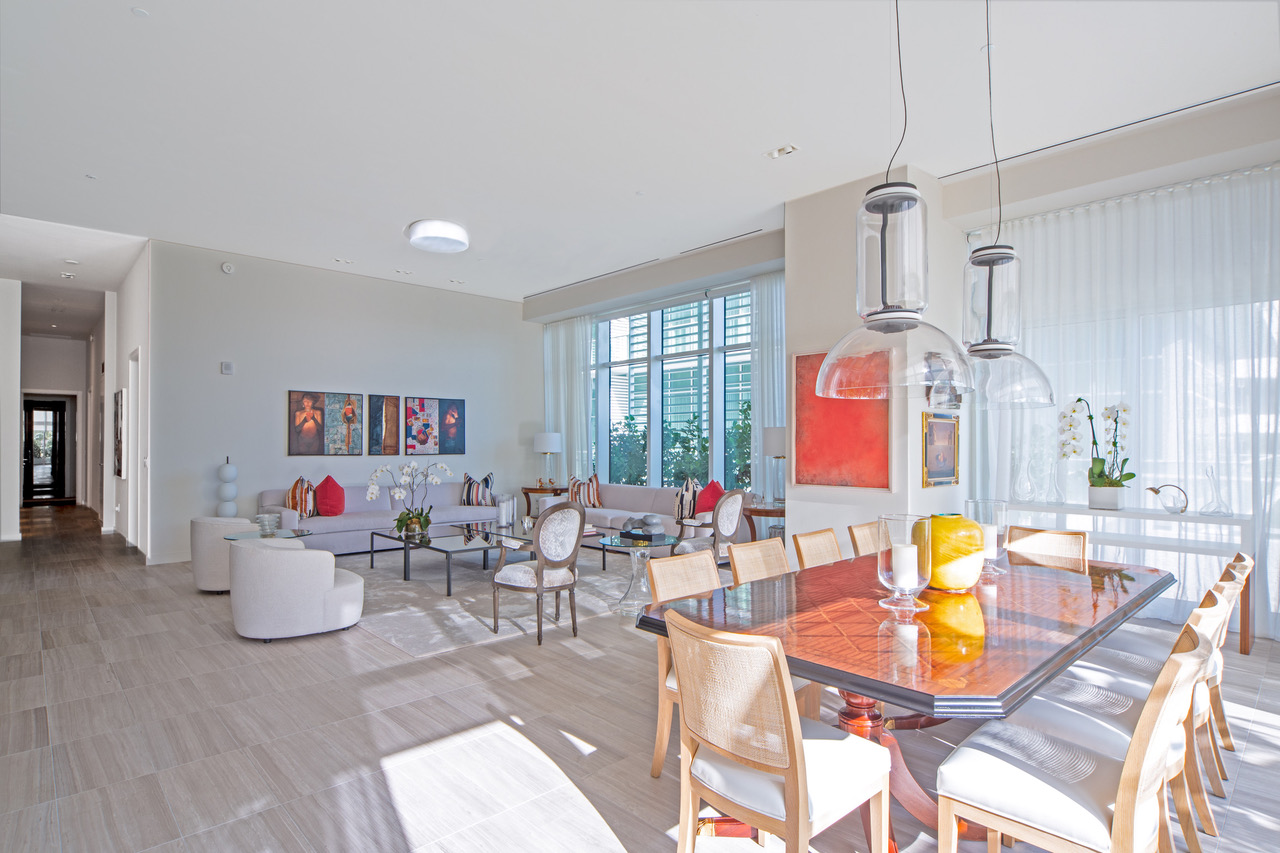 KGD Vendors for the Miami Ritz-Carlton Residence Interior Design Project
The Ritz-Carlton Residences Miami Beach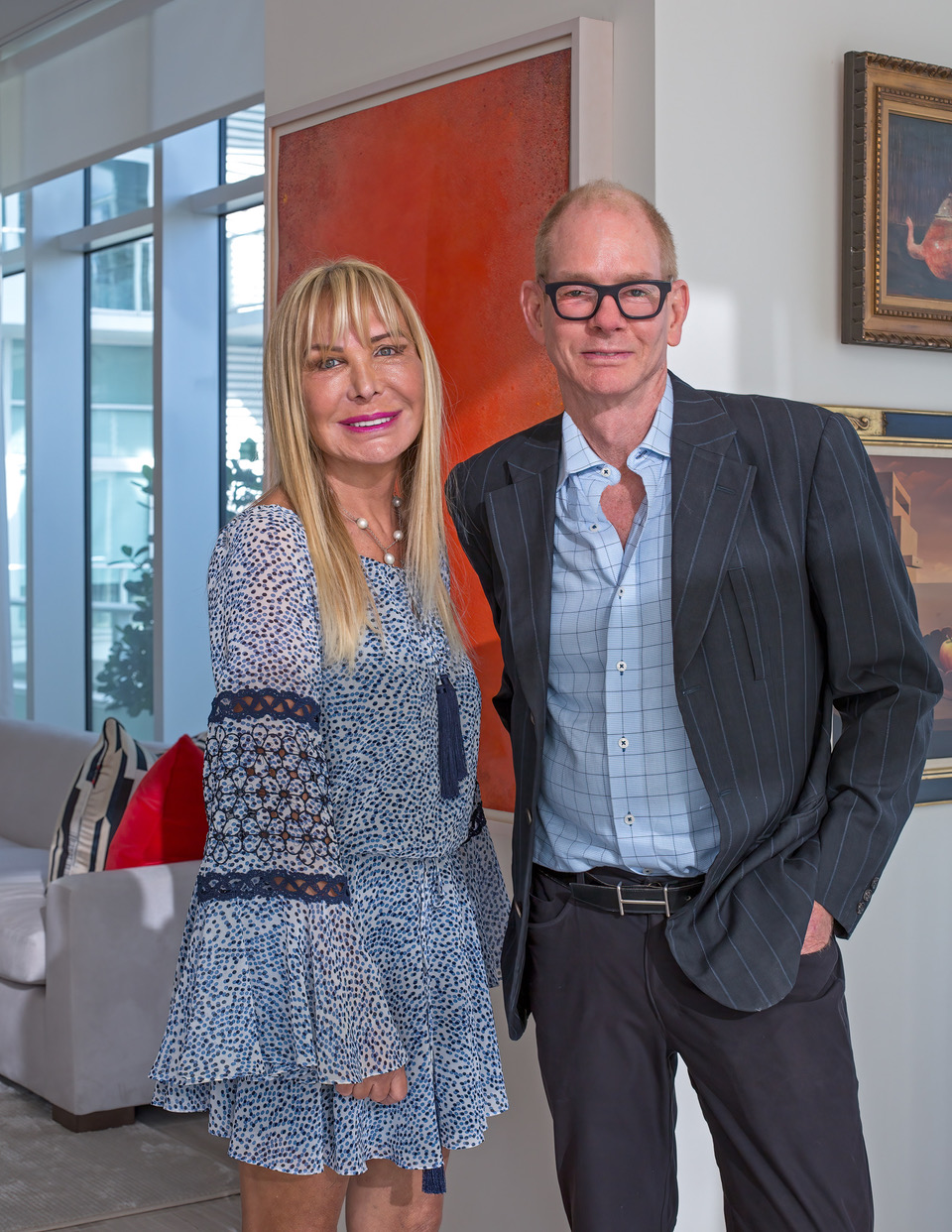 The Ritz-Carlton Residences in Miami Beach was designed by Piero Lissoni and offers luxury waterfront living. The private residences offer resort-style service and detailed Italian craftsmanship on seven acres of gardens, pools, entertainment spaces and a private marina.
Kevin Gray Design
Creative | Fresh | Innovative
Kevin Gray
is an internationally celebrated interior designer, known for transforming interiors into timeless and unique environments for the most discerning clients in Miami, New York and Europe. His interiors showcase signature designs that are understated yet sophisticated, straightforward, elegant and functional. Clean lines and simple but well-crafted furnishings, with an attention to texture and the highest quality materials, are Kevin Gray Design staples. Clients say that the key to Kevin's success is his collaboration with the best architects, craftsmen and builders. And, while beautiful rooms are Kevin's first consideration, client service, project management and attention to detail are of the utmost importance.
720 Northeast 69th Street
Palm Bay Towers – Suite 11W
Miami, FL 33138
T: 305 751 4263
F: 305 751 4287