20 years ago, interior designer Kevin Gray's Miami Beach penthouse apartment was featured in two design publications,  Vogue Apartment  Living Australia, as well as Metropolitan Home which in the cover story described its  "sophisticated sense of history, texture and style" and Kevin's penthouse was featured on two HGTV special (below). Kevin came across an unpublished photo of him laying on his daybed that brought back memories of his Bayfront penthouse that he had in the late 90s. Kevin found this barren Miami Beach 1960s apartment, and instinctively knew he could do something with the concrete boxes and massive terrace. As this was a rental building Kevin had to play with texture to define the rooms and make them more unique. Unsurprisingly, while his designs have evolved, his timeless design aesthetic and principles have not changed in the last 20 years.
For me, it's all about the mix! I've lived, traveled and worked in Europe and the East Coast of the United States throughout my career, and traveled the world for the last 40 years, so I have developed an eye for the unexpected. I'm known for my eclectic design and my ability to make it work. When my clients come to me and ask if something 'will work,' usually it's a, 'Yes – we'll

make it work!'


To keep it interesting I like to mix antiques with modern, expensive with not so expensive. The contrast pleases the eye and the senses. Not just in my clients' homes, but in my home too!

– Interior Designer Kevin Gray
Kevin shared some of his design tips and secrets:
Kevin ripped up the wall-to-wall carpeting and polished the concrete floors until they with a marble-like finish.
Kevin found the wool shag rug on a roll at Home Depot, and had it bound.
The rug was sized to match the travertine wall behind his custom white faux leather couch. The 18″ travertine squares are the same width as the couch.
The apartment's entry doubles as a dining room. He covered the walls with 18″ square picture frames covered in chenille to add texture and make the front door disappear.
No construction was needed to redesign the 40-year-old apartment. Kevin reimagined the space by changing textures, styles and periods, and adding views by seamlessly merging indoor and outdoor living to take advantage of the unobstructed views. He built a Chattahoochee waterfall fountain using 18″ cobblestone squares.
Personalization is important to make a house a home, and Kevin made his home using the pieces he'd collected in his years of travel for work and pleasure.
Photographer Dan Forer
In the feature photo, Kevin Gray was photographed by Dan forer in a Joop delft-blue suit on two daybeds of his own design repurposed as a living room couch.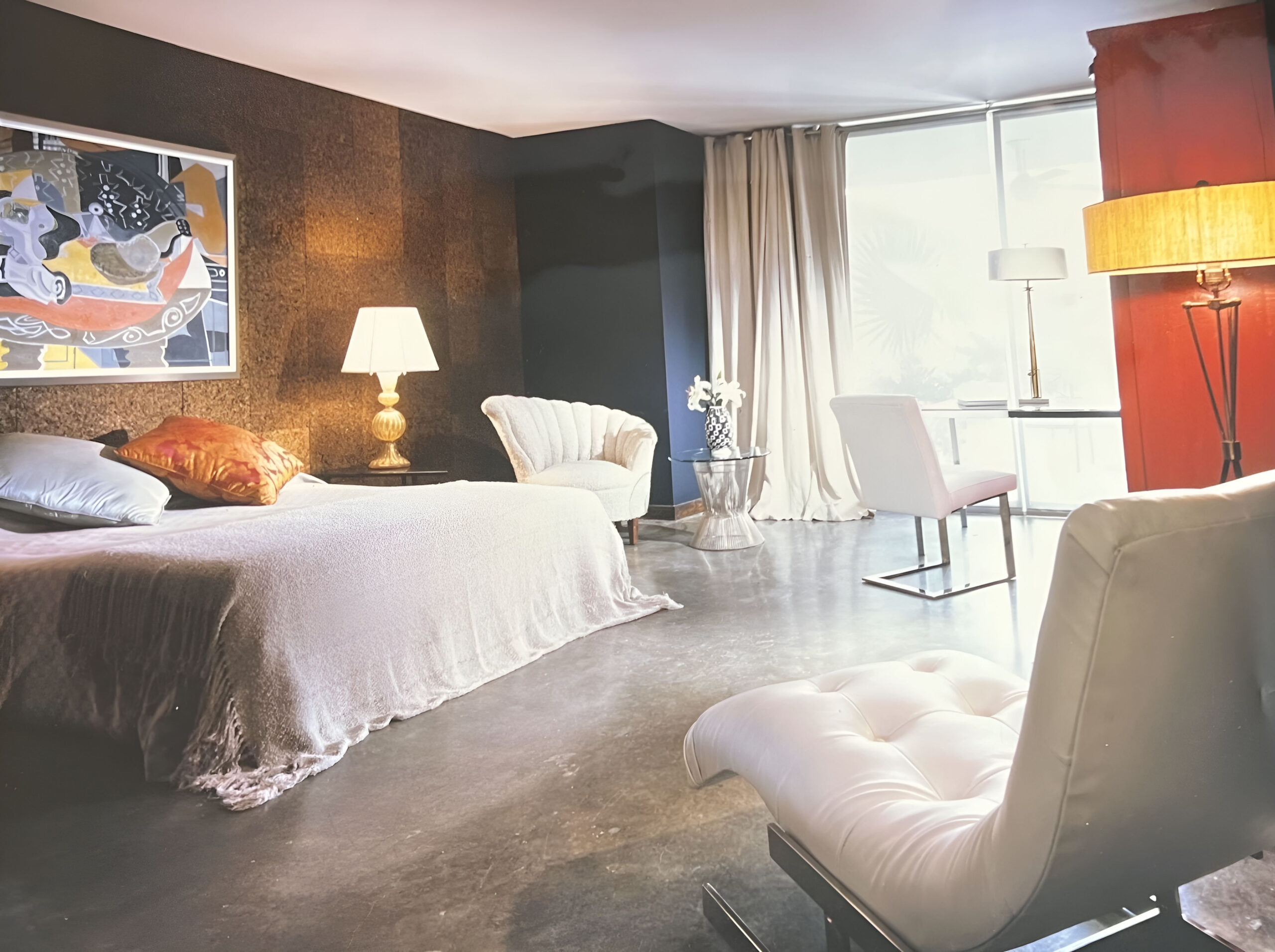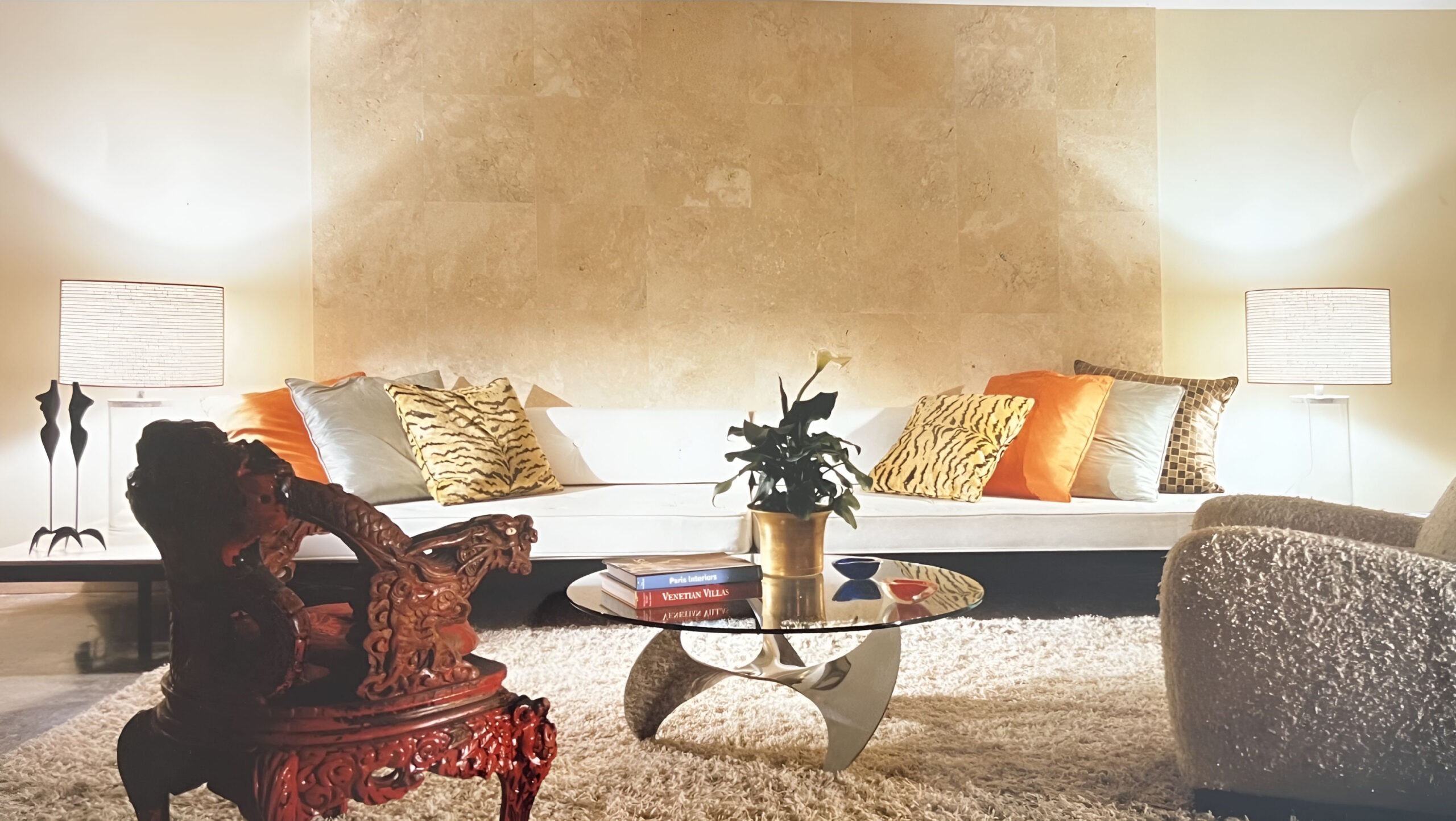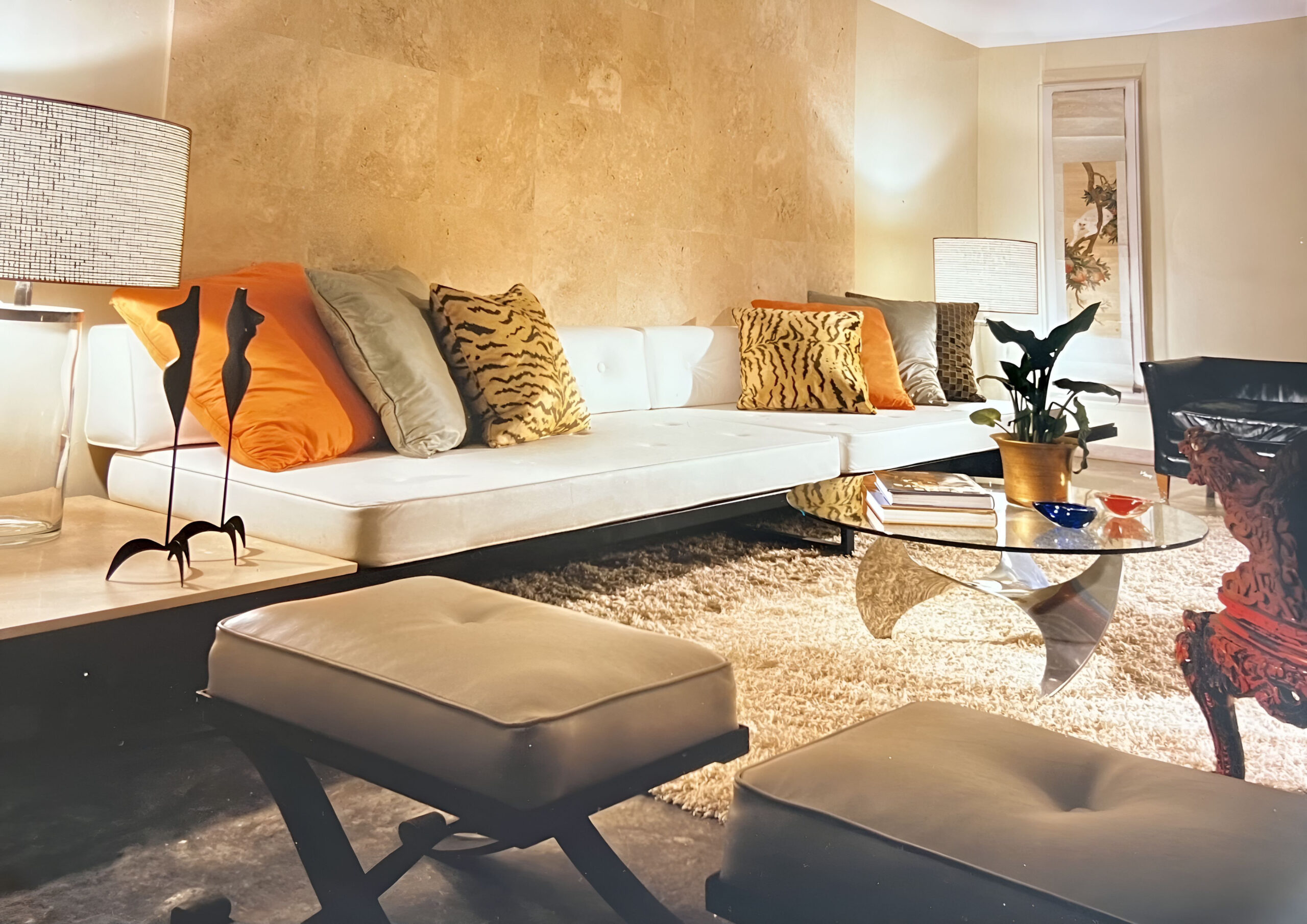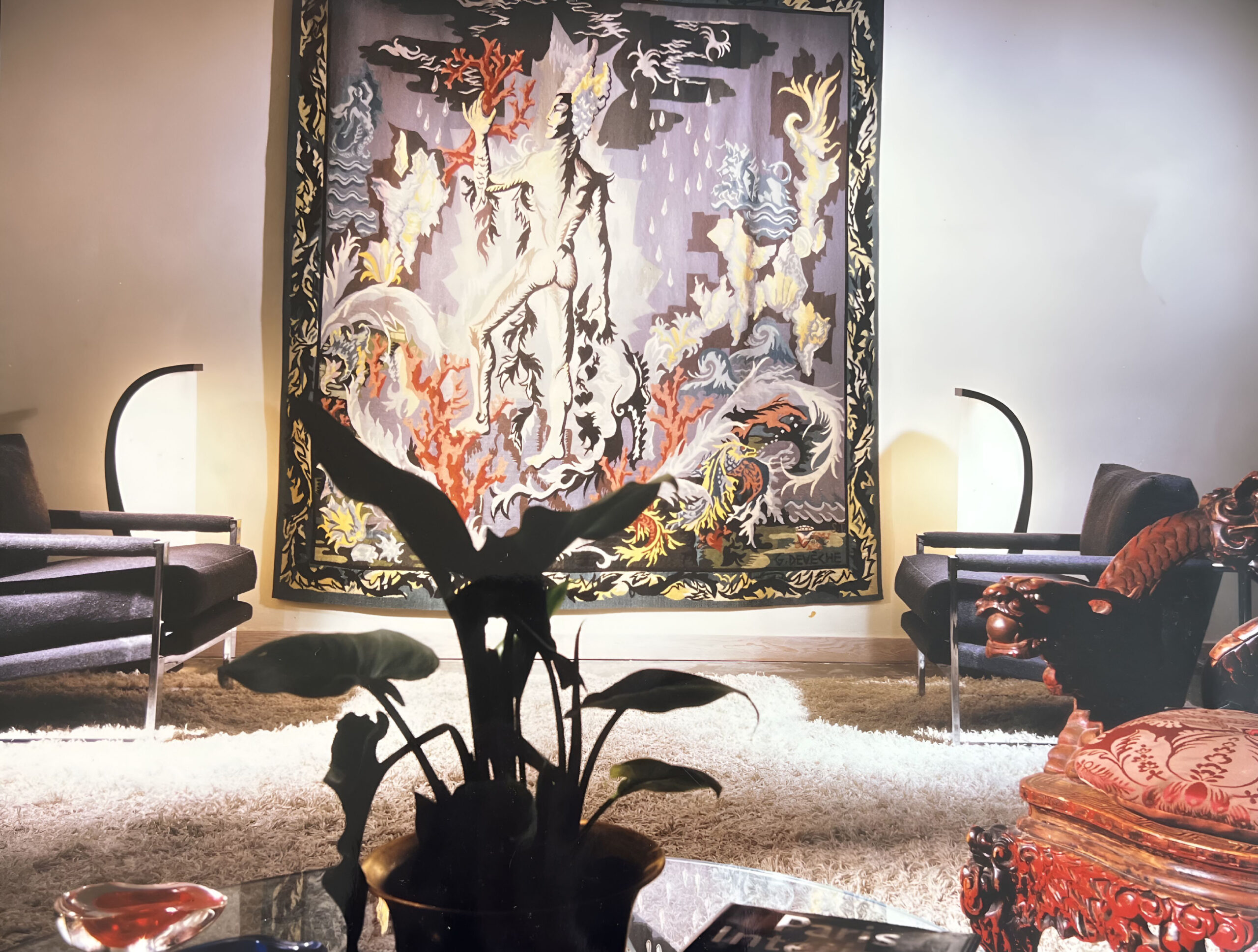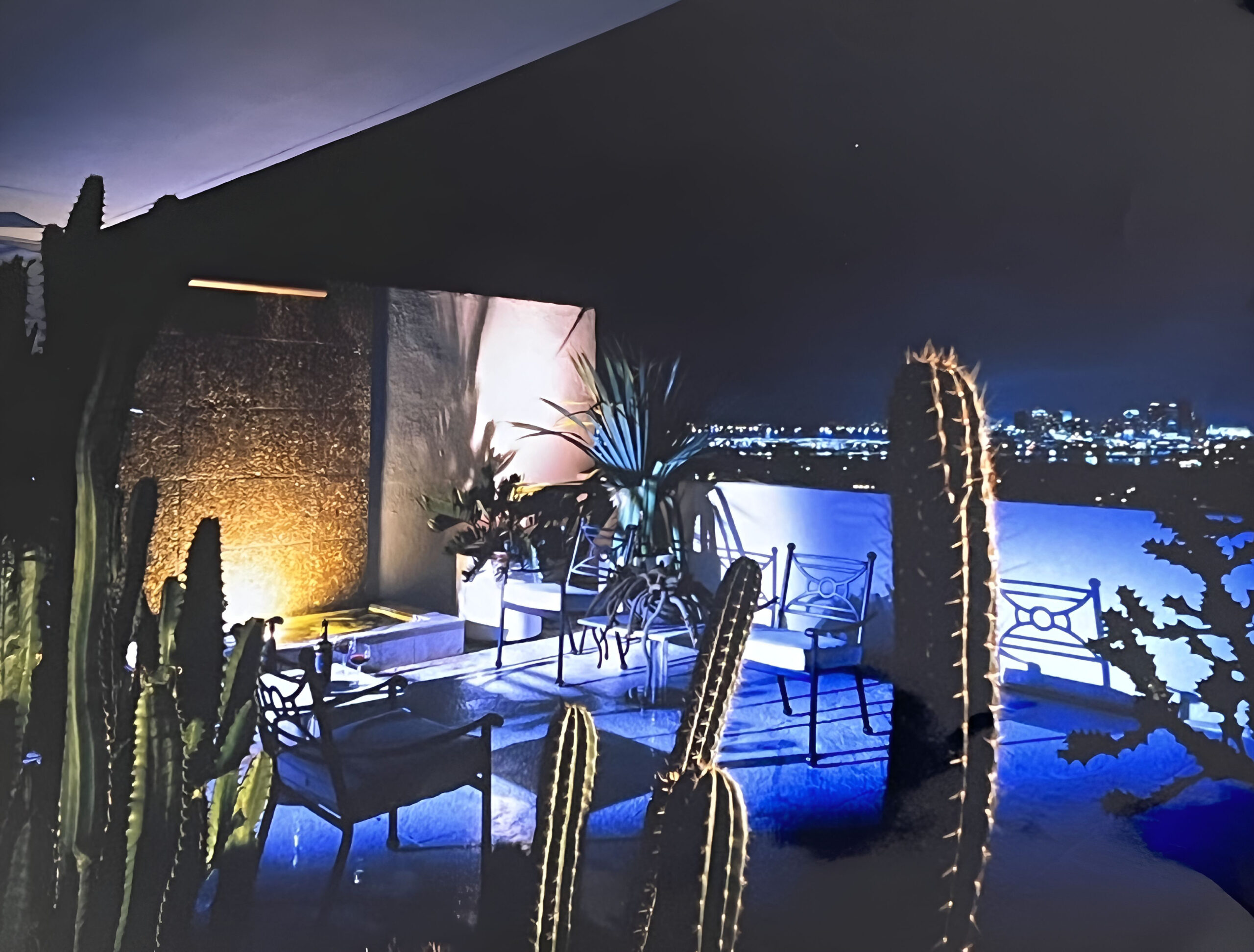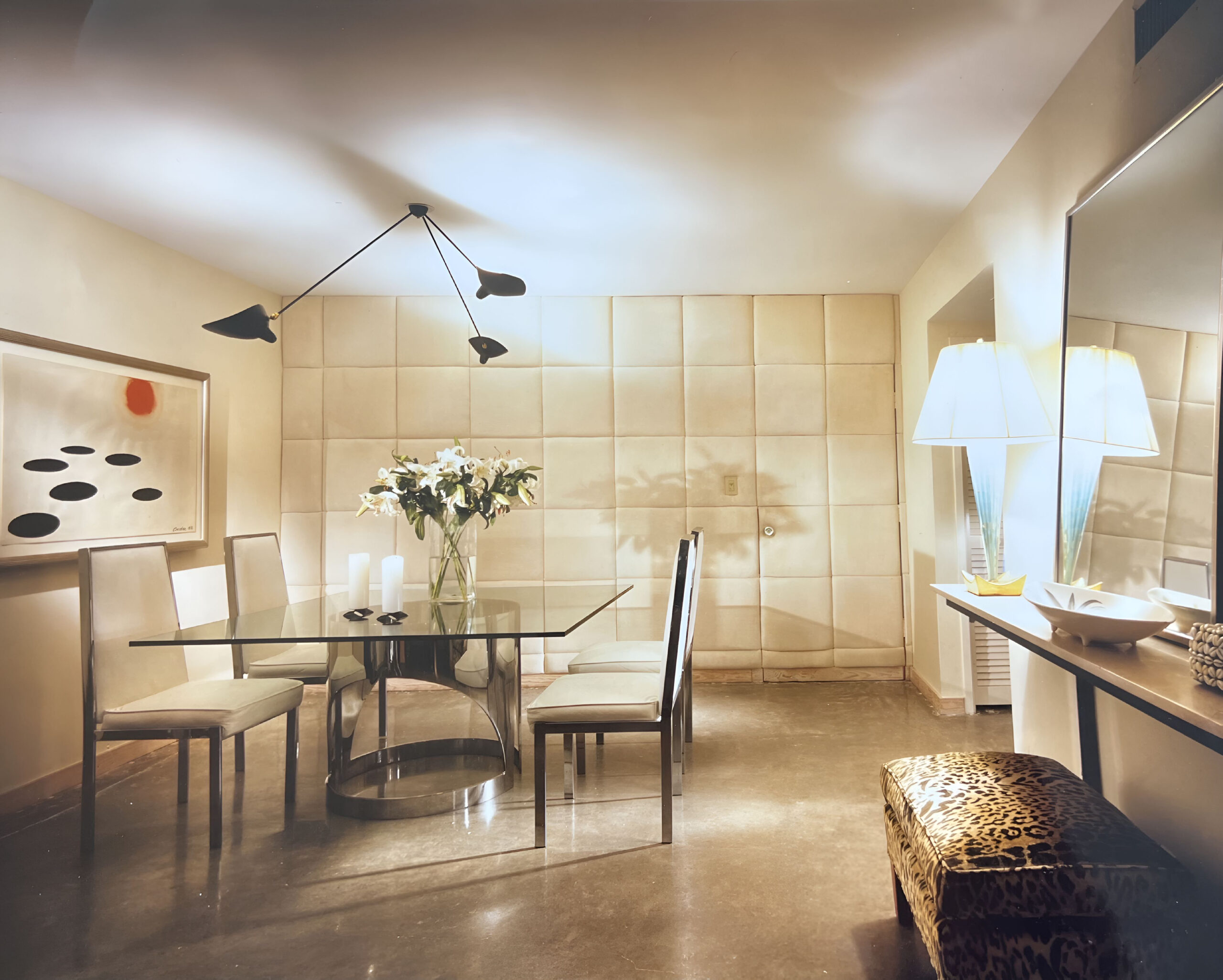 HGTV's Nancy Glass Interviews Kevin Gray
Kevin Gray Talks to HGTV's Kimberly Seldon
Don't Miss: Zandt and Orbit Lamps Designed by Kevin Gray, Now Made in Italy 
Creative, Fresh Innovative:
Contact Lighting and Interior Designer Kevin Gray
Kevin Gray
 is an internationally celebrated 
Lighting and Interior Designer, known for transforming interiors into timeless and unique environments for the most discerning clients in Miami, New York, Washington D.C. and Europe. His interiors showcase signature designs that are understated yet sophisticated, straight-forward, elegant and functional. Clean lines and simple but well-crafted furnishings, with an attention to texture and the highest quality materials, are Kevin Gray Design staples. Kevin is known for his sensibility of style by mixing the unexpected with unique vintage pieces and fabrics. Clients say that Kevin's key to his success is his trusted history of
collaborations with the best architects, craftsmen and builders.
720 Northeast 69th Street
Palm Bay Towers – Suite 11W
Miami, FL 33138
T: 305 751 4263
F: 305 751 4287