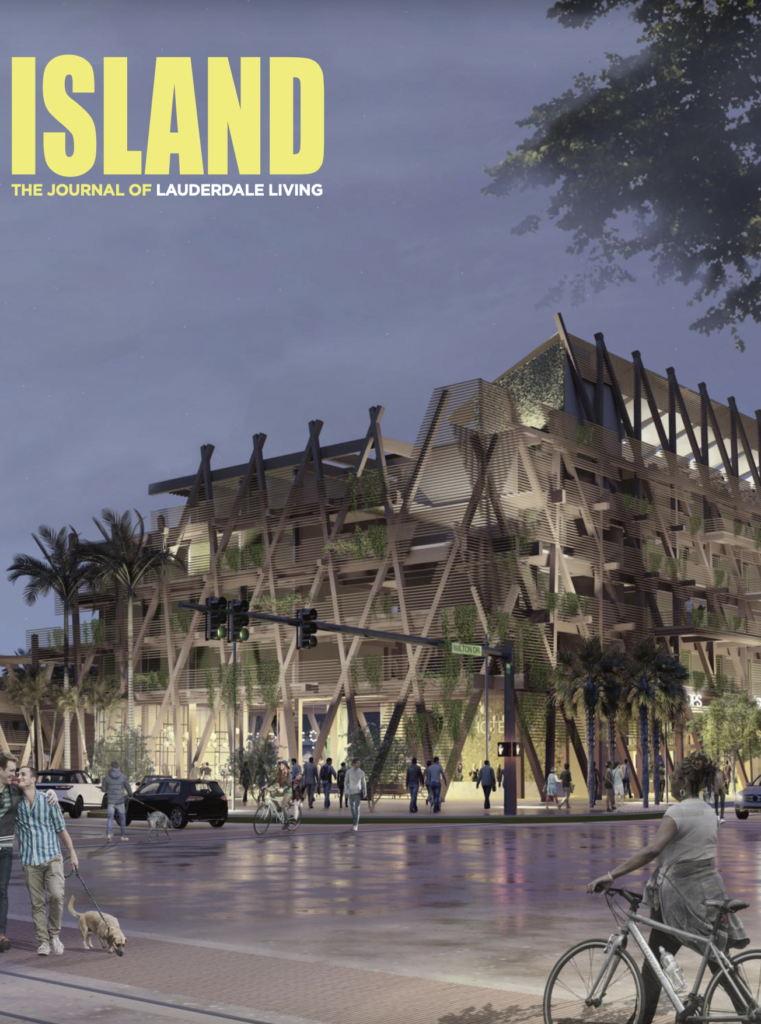 Kevin Gray designed an oceanfront hideaway that was recently profiled in Island Time. Here is the original article; below is a video tour of the Florida home featured on SoFlo Home Project.
"I'm honored this home was featured in Island Time. It's a James Bond getaway on Tavernier Key. We saved the iconic parts of this mid-century oceanfront home, and restored it to it's original glory."
– Interior Designer Kevin Gray
Designer Kevin Gray updates a classic bungalow on Tavernier Key.
Text Hilary Lewis
Photos Robin Hill
Designer Kevin Gray splits his time between New York and Miami, where he can be found working on penthouses for clients with boldfaced names. But he is also adept at working at different scales, such as his recent transformation of a traditional 1960s/1970s bungalow-style house on Tavernier Key. The result is a beautiful merger of the restoration of the basic bones of a late Midcentury house and an updated 21st-century take on island living. 
When Gray was brought into this project, his client had already begun architectural revisions and wanted "a house like Key West, but this isn't Key West, it's more like Key Largo" and felt it was better to stay true to the original house. So the designer suggested that the pitched roof be extended, balconies with nautical railings be added and the second floor expanded so that the entire composition would feel a bit like an ocean liner, very fitting for its seaside position, while remaining true to its roots.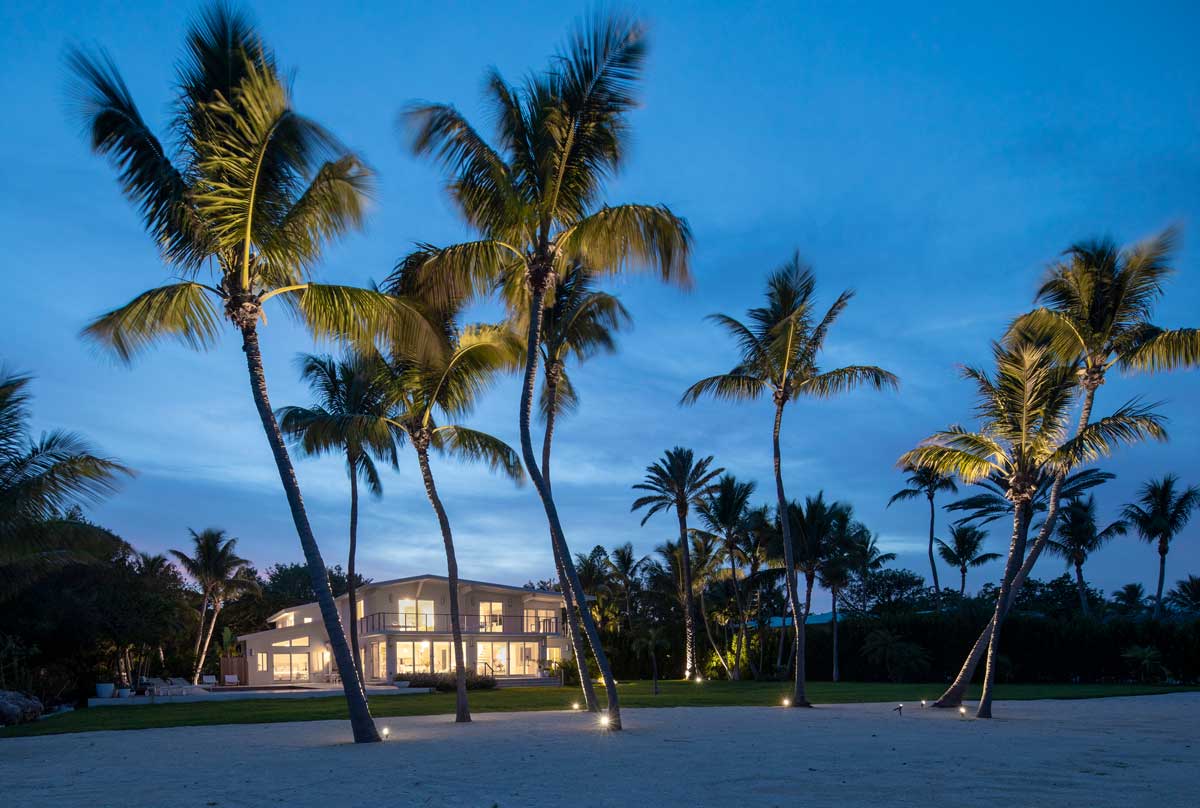 Gray preferred to keep the landscaping simple, uplighting beautiful palms on the beach and maintaining local vegetation on the property, placing a deep aqua pool just beyond the first floor master suite. He replaced standard windows with 7-foot high ones and increased door heights to add a more gracious scale.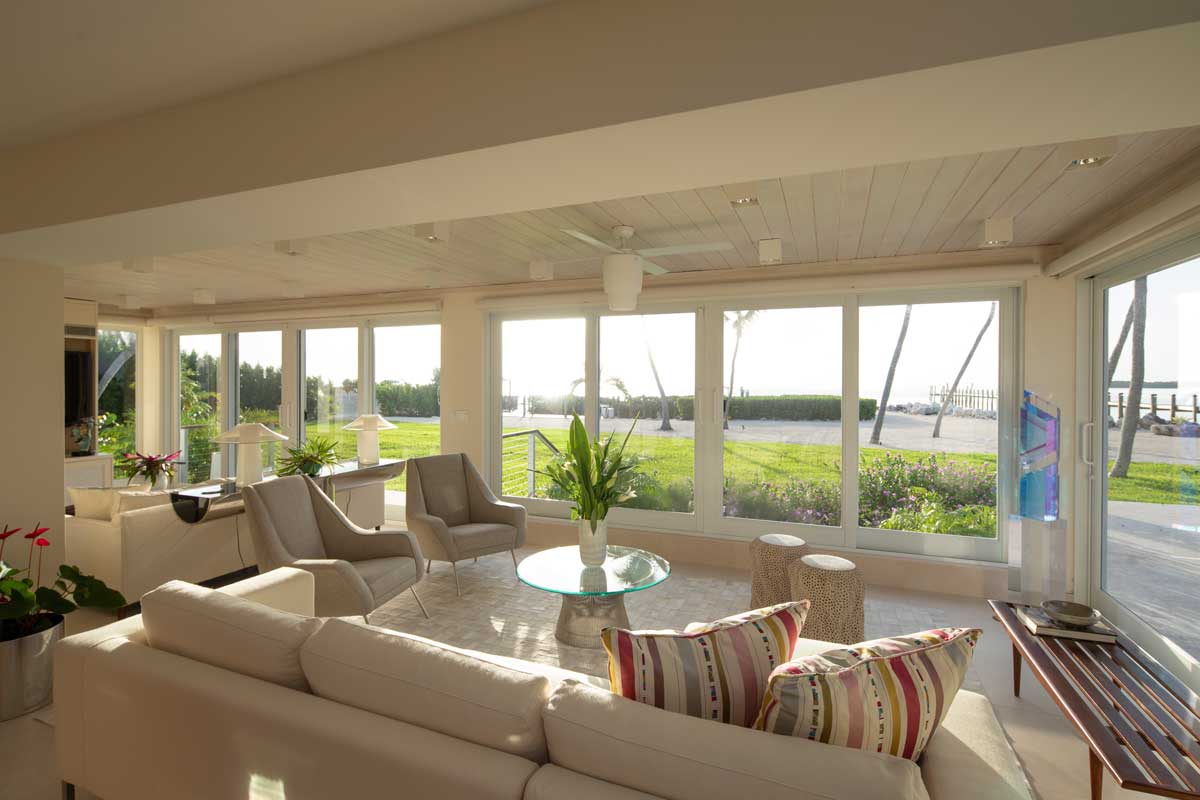 A blend of vintage and new, from a Warren Platner coffee table to a Brueton T Console, graces this sunny living space. A cowhide rug from Stark pulls it all together.
For the interior, Gray elected to maintain the original, finished cedar ceilings in much of the house, "which is how these houses were designed in their day." Gray has a penchant for maintaining the feel of an original structure, whether it be a 1960s bungalow in the Keys or a 1930s skyscraper in New York. "I like working with something old that has potential,"
One area where Gray did change the ceiling was in the living room. a light-filled space surrounded by windows with fabulous views. This room is all about its connection with the ocean and Gray kept the colors light to work with the sea and sand outdoors. The ceiling here is pickled and bleached with Flos lighting and a ceiling fan from Modern Fan. Many of the furnishings are equally pale in tone.
When asked about his method of working with clients during the decorating process, he playfully responds that he usually "pulls a truck up with everything." But first he likes to "addict the client to items and materials I think they will enjoy and will work well for the project." This usually involves early visits to places such as B&B Italia, Poliform, Motini and Lutron. Gray's default position is always towards high quality, even when he is looking for casual pieces.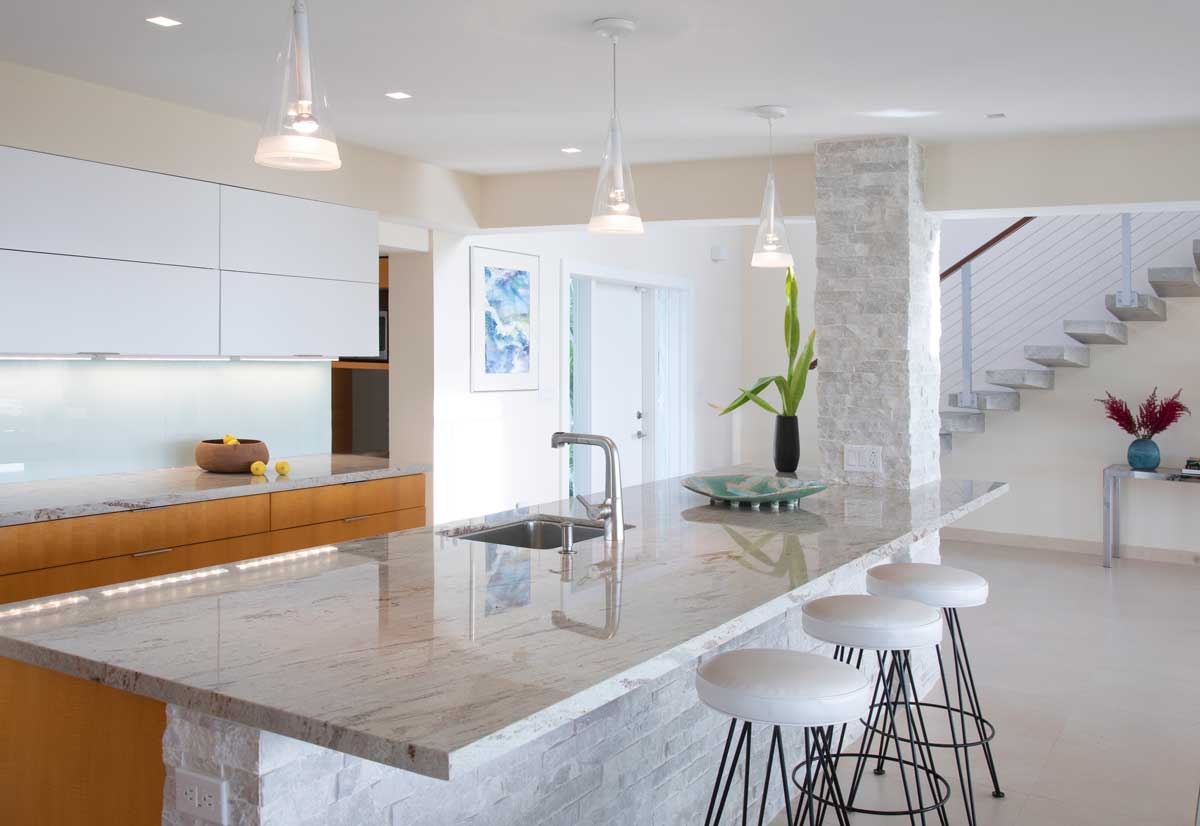 Quality of materials reigns supreme in the kitchen.
A Cashmere white granite countertop is supported by sandstone brick accompanied by Dornbracht fixtures.
"But you don't have to go crazy with spending," Gray explains. "You can mix pieces from Design Within Reach with vintage items and get a great result." He acknowledges that not all clients are ready to select furnishings from the more pricier providers like B&B Italia, although he certainly is pleased when clients are eager to embrace that level of quality.
For this project, he employed his usual method, filling a truck with pieces for the house: "I went to vintage stores, including some in Miami on 125th and 86th Streets, such as Stripe, and loaded the truck up, chandeliers and all. I like a mix of old and new and I tend to bring accessories too; sometimes clients take it all but not always." In this case, Gray blended several pieces from the client's own collection, including a vintage Midcentury bench and several artworks. 
But it was Gray who brought in the pony skin stools from Paris that he calls his "Cheerios stools" for their textured side surfaces, the Stark cowhide rug, and the sculptural steel and black glass 1970s Brueton T-console for the living room. Atop the console he placed two 1960s Murano glass "jellyfish" lamps. He also added vintage Italian Parma chairs with brass legs and taupe linen, a Platner coffee table and Donghia fabric for accent pillows as well as a lucite sculpture. For the dining room, the designer selected a Paul Evans Skyscraper table with vintage Herman Miller chairs.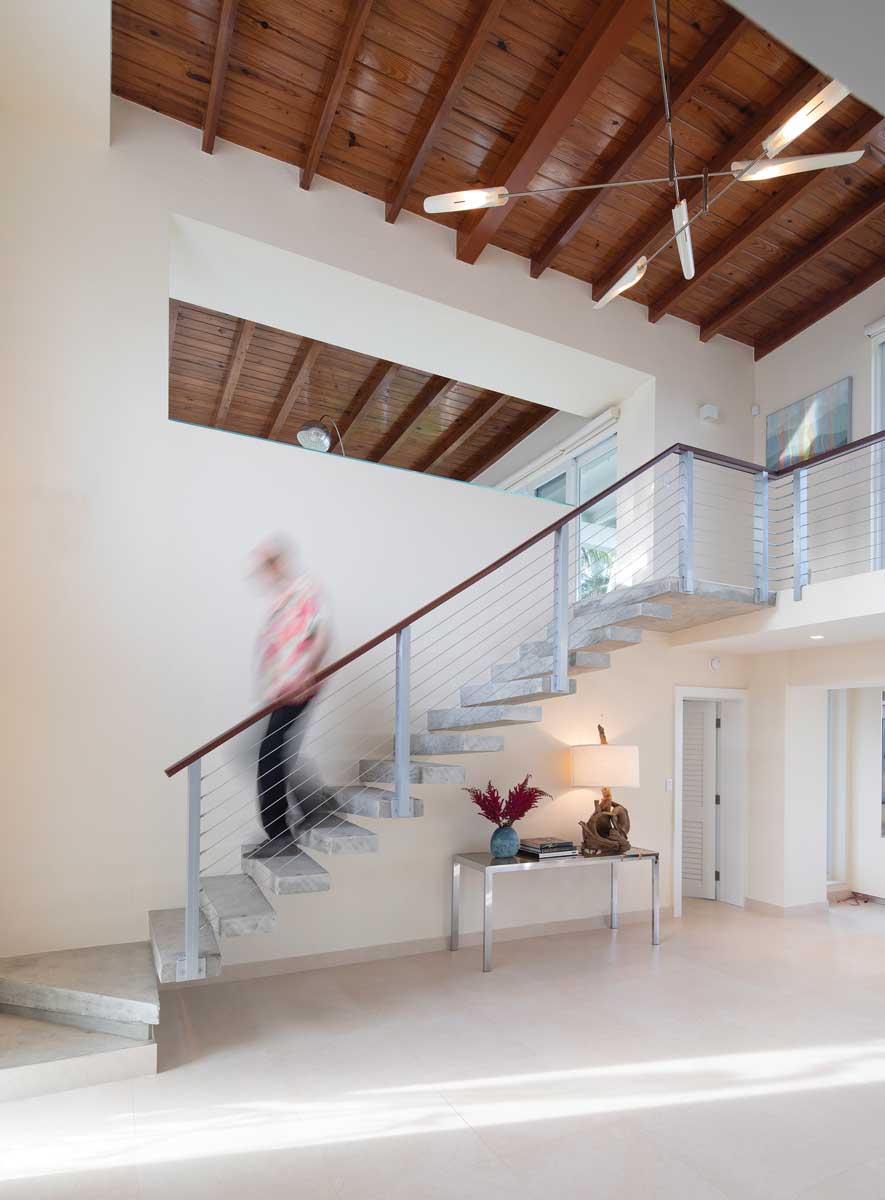 By removing the existing tile, the designer revealed the purity of cantilevered concrete stairs. A David Weeks chandelier gracefully floats above.
One of the signature pieces is a distinctive David Weeks chandelier above the staircase. Its simple sculptural forms complement beautifully the raw simplicity of the cantilevered concrete stair. Gray had removed the original tiling from the staircase and replaced the wood balusters with a simple cabled rail. Just below the stair is a Gabriella Crespi console, which features a woven rattan top. A twisted cedar lamp adds to the oceanfront feel of the spare space.
Gray invested a lot in the kitchen, employing quality materials including white Cashmere granite for the countertop and sandstone brick below. He chose non-Sapphire glass for its green tone as a backsplash and anigre wood for the cantilevered cabinets above. Achille Castiglionoi-designed Fucsia lighting from Flos adds form and light above. The flooring ties it all together using a recycled stone porcelain tile in "sand."
The end product is a livable, oceanfront hideaway with place for boats out front. "It's a James Bond getaway," says Gray.
---
WATCH: Tavernier Key featured on SoFlo Home Project with Martin Amado
The team at Kevin Gray Design was honored and thrilled that SoFlo Home Project selected our Florida Keys oceanfront gut and rebuild on Key Largo to profile on the TV show.
Interior Designer Kevin Gray
Kevin Gray
 is an internationally celebrated interior designer, known for transforming interiors into timeless and unique environments for the most discerning clients in Miami, New York, and Europe. His interiors showcase signature designs that are understated yet sophisticated, straight-forward, elegant and functional. Clean lines and simple but well-crafted furnishings, with an attention to texture and the highest quality materials, are Kevin Gray Design staples. Clients say that the key to Kevin's success is his collaboration with the best architects, craftsmen, and builders. and, while beautiful rooms are Kevin's first consideration, client service, project management, and attention to detail are of the utmost importance.
720 Northeast 69th Street
Palm Bay Towers – Suite 11W
Miami, FL 33138
T: 305 751 4263
F: 305 751 4287