KGD reworked this duplex with a new kitchen, master and powder baths and designed anopen floating staircase. The kitchen was redesigned for optimum space and opened the entrance area to see the spectacular views upon entering. A bar area was added with a backsplash of mirrors to reflect Miami Beach sunrise and sunsets. Vintage mid-century classics accents, a Milo Baumann coffee table, Murano glass, African masks and a "Bretoia "wall sculpture enhance the beauty of the duplex. The staircase was partially relocated to allow room for a desk area. Architectural glass panels were anchored with chrome bolts all up the staircase to the master bedroom area . The master bathroom was gutted and all doors removed and replaced with frosted glass pocket doors. The shower was enlarged by taking air space and creating a shower seat with a wall of glass tiles flanked by white thassos granite.
The ceilings were raised from 8 to 9 1/2 feet. The soaring 20 Foot living room was anchored with a dark rug to absorb the light and a leather sectional with a pair of swivel chairs provides a comfortable conversation area to living and terrace overlooking Biscayne Bay. My clients from East Hampton originally wanted a snow bird's nest for winter months, but find themselves here off and on year-round.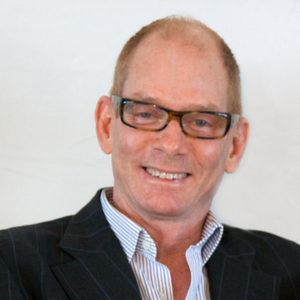 Kevin Gray is an internationally celebrated interior designer, known for transforming interiors into timeless and unique environments for the most discerning clients in Miami, New York, and Europe. His interiors showcase signature designs that are understated yet sophisticated, straightforward, elegant and functional. Clean lines and well-crafted but straightforward furnishings, with an attention to texture and the highest quality materials, are Kevin Gray Design staples. Clients say that the key to Kevin's success is his collaboration with the best architects, craftsmen, and builders. While beautiful rooms are Kevin's first consideration, client service, project management, and attention to detail are of the utmost importance.