A Look Back with Wolfgang Joop NEW YORK SUTTON PLACE PENTHOUSE
25 YEARS AGO, KEVIN DESIGNED A PRE-WAR WHITE GLOVE PENTHOUSE AND DID THE UNEXPECTED BY FURNISHING IT WITH A COLLECTION OF THE BEST OF THE FRENCH 50'S.
Featured in HOUSE & GARDEN Magazine
Joop's Penthouse was written by the talented Wendy Goodman and beautifully photographed by Oberto Gili.
"It was on first sight that I had, as the French say, a coup de foudre. I just instantly fell crazy in love with those fabulous arching off-the-wall lamps by Serge Mouille, the Charlotte Perriand tables, the hand carved woods from Alexander Noll, those Jean Royère designs that are still so fresh and fun today. Believe it or not, when that Sutton Place interior was published, I was ridiculed big time by big name designers. I think it was for being ahead of the trend on post-war French designers, and for mixing up the genres."
In 1992, Wolfgang Joop, Germany's premier fashion designer and fragrance creator, had purchased the penthouse owned by Bill Blass, at 444 East 57th Street, in the prestigious Sutton Place area.
Back in the day, the renowned gallery owners Holly and Horace Solomon owned this iconic building and Holly held court with her collection of avant-guard paintings. The building also attracted infamy when Marilyn Monroe, Bobby Short and Hollywood stars lived there.
Kevin was living in Hamburg, Germany at the time and went to New York to have a look at the apartment. Wolfgang wanted to keep the classic look of Bill Blass original inlaid marble and moldings that would have complemented his collection of Biedermeir furniture. Having one look at the penthouse Kevin said, "No, No! We need to gut the place and furnish it in French 50's decor," which was relatively unknown at the time in the States. Kevin finished his studies at Parson School of Design Paris in 1977-1979 and remained in Paris and Hamburg through the late 80's. Kevin knew the French 50's designers by visiting the galleries in St Germain des Prés, Paris and combing the Paris flea markets; Serge Mouille, Jean Prouvé, Alexander Noll, Charlotte Perriand, Jacques Adent and Jean Royère plus many more.
"Tony DeLorenzo had the very best of the 50's in New York and this is where we bought many of the beautiful pieces. I will never forget the day when Tony organized a truck to meet us in the Paris Marais to show us something special. We watched as a truck pulled up and lowered an original Royère Polar Bear sofa off the back tail lift and we sat on it and bought it right there on the street and loaded it back on the truck."
With great team effort by Wolfgang and his partner Edwin, they created a revolutionary look of French 50's and 60's and hung their collection of Tamara de Lempicka paintings and objects from their homes in Hamburg, Monte Carlo and Potsdam.Special attention was paid to every aspect of the renovation. Kevin custom designed black steel Bauhaus double doors, leading out to wraparound terraces.
Special attention was given to preserve the original look of fabrics and colors of upholstery from the 50's. Kevin upholstered the pair or Royère chairs, flanking them on the custom designed mosaic, gold fireplace, one in yellow and one in turquoise blue which was inspiration for the color of the living room. They kept the rest of the walls neutral to offset the collection of paintings and furniture. For the foyer, they laid black slate with a custom bronze and light plexi-glass ceiling which set the stage for their collection of black and white Berlin photographs from the 1930's. Kevin centered a Jean Royère console of parchment and red wave metal base and hung a red Royère lamp above with Georges Jove cylinder chartreuse vase.
By curving the fireplace wall Kevin partially opened up the master bedroom with a view from the entrance showing off Wolfgang's Alexander Knoll masterpieces. The room was anchored by a large, round, terrazzo coffee table and Royère sofa. One day shopping with Wolfgang, they stopped at an antique store and found a magnificent 18th century Venetian console in coral lacquer and gold leaf. This was placed below one of Wolfgang's Tamara de Lempicka paintings.
For the master bedroom Kevin found a John Reisling screen in Soho that was used as a headboard. Kevin wall mounted a 50's Serge Mouille wall & celling lamp between the windows with a pair of 1960's Arne Jacobsen egg chairs.
The study, originally a maid's room, had numerous leaks from the old skylights so a deal was struck with the CO-OP to replace all new glass ceilings and curtain walls with a pair of doors that opened to the large terrace overlooking downtown Manhattan. In the adjacent dressing room we painted one accent wall black and placed Royer's famous Wisteria lamp in the corner.
"The Joop penthouse is one of my favorite projects in my 40 year career. About 10 years after we finished the penthouse Wolfgang auctioned off the furnishings at Sotheby's N.Y. which set world records, so those French 50's paid off well!"
FYI that Royère Polar Bear sofa which we paid $12,000 off the back of the truck sold for $225,000 15 years later, and last year at TEFA Park Avenue Armory the same sofa was sold for $850,000.
Today the top dealers often ask if I was the one who designed the Joop penthouse, and when I nod yes they tell me, "You're the one who set the pace for French 50's." The penthouse was published in Casa Vogue, House and Garden USA, and Wohen German Magazine, as well as a CNN special interview with Wolfgang and Elsa Klensch inside the apartment. It is always a delight to see them at their villa in Pottsdam in the summer months and Miami this winter. I am so appreciative to have these fabulous memories in my long career."
"WolFgang, Edwin and I have shared 30 years of friendship and design inspiration. I'm proud to look back at the work we did; the penthouse and roof terrace in Monte Carlo and the JOOP! Flagship store in Miami Beach, Ocean Drive."
—Kevin Gray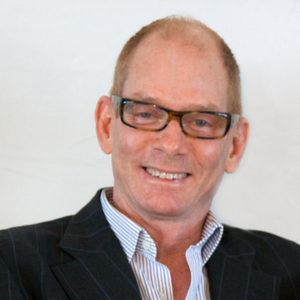 Kevin Gray is an internationally celebrated interior designer, known for transforming interiors into timeless and unique environments for the most discerning clients in Miami, New York, and Europe. His interiors showcase signature designs that are understated yet sophisticated, straightforward, elegant and functional. Clean lines and well-crafted but straightforward furnishings, with an attention to texture and the highest quality materials, are Kevin Gray Design staples. Clients say that the key to Kevin's success is his collaboration with the best architects, craftsmen, and builders. While beautiful rooms are Kevin's first consideration, client service, project management, and attention to detail are of the utmost importance.